Betty Winkler--Paintings and Etchings. Betty Winkler--"Butterfly Series" Monoprints .
BETTY WINKLER
Organic Minimalist Painter & Printmaker
CREATIVE PROCESS visits the midtown Manhattan printshop and studio of Betty Winkler.

Betty WINKLER: My work is informed by the elements: air, fire, water, earth and-- especially--light. It is light which inspires, instigates and directs my work.



Betty Winkler Passages 10
Oilstick on Inked Paper



Betty WINKLER: I consider myself an organic minimalist. To me, minimalism is the distillation of something into its essence. The "organic" comes in because these elements and components exist in the natural world where evolution and motion are constant and where straight edges and flat colors do not exist.












Betty WINKLER: Mystery is a characteristic of essence. In these pieces, mystery can be the light and/or the space through which that light is seen.


Editors Note: Read Betty Winkler's notes on the step-by-step printmaking process for an etching with carborundum.










Betty Winkler Meditation 7
Dry Pigment on Paper
Betty WINKLER: Sometimes I try to create images that elicit sensations other than optical in the viewer: the feel of moving sand and water, the sound/silence of fallen snow or the softness of fog. The "Meditation" series, on which I've been working for several years, brings together light, motion and space. For me, these elements are parts of a single whole--one cannot exist without the others.
Betty Winkler Candles Triptych
Dry Pigment on Paper
Betty WINKLER: I made these paintings using dry pigment applied and rubbed by hand onto the paper. Before 1990, I worked in pastel and in pencil, but I prefer the intensity of the raw pigment. When finished, I spray the painting surface with a stabilizing fixative.










Betty WINKLER: Without movement through space, optically or physically, there is no sensation--no awareness of our presence within the natural universe. The "Passages" series includes a sense of time and suggests the physical world a bit more specifically than some of my other works..



Betty Winkler Passages 2
Oilstick on Inked Paper



Betty WINKLER: These pieces are made with oilstick on handmade paper. In some instances, before painting, I apply a ground layer of ink by running the paper through the press. The silvery color of the ink filters up through the paint.

















Betty WINKLER: The "Prima Verde" series refers to light refractions and reflections; this image uses the natural colors of a butterfly.




Betty Winkler Prima Verde 18 (detail)
Monoprint
Winkler's "Butterfly Series" of monoprints
further develops this theme.


Betty WINKLER: Etching is the medium of endless possibilities. I work in traditional techniques, including mezzotint, as well as non-traditional techniques such as contemporary collagraph methods in which the image is collaged on top of the plate--not cut into it as in an intaglio print. Whether incised or built-up, printmaking is a sculptural, 3-dimensional process with a 2-dimensional product.







Betty WINKLER: Nearly every fine intaglio print I've ever seen has been an education unto itself. It's not only how the artist has used the medium, but it's seeing the perfect marriage of image and medium--one impossible without the other. (I shudder in dismay at prints that fail to use a process well and that should have been made in some other printing medium.)

Betty WINKLER: My mother, who as a young woman had considered a career in art, was my first art teacher. She used some of her early artwork to teach me a few lessons about art and life. We always had lots of crayons and watercolors (and paper) in the house, as well as art history books and artists' biographies. Growing up in a small town with no art history classes, I taught myself from these books until I went to Carnegie-Mellon.

Betty WINKLER: Michelangelo has always been my favorite artist. In all his work, he perfectly balances power and fragility, materials and image. Certain Monet paintings have a light that can only be described as magical and mystical. His effects of light are subtle, usually because of his marvelous weaving of color. You come close to examine a Monet to see how he did it and it all dissolves into strokes or flashes of color; stepping back, you see the harmony of it all. Magritte with his technical proficiency matched with his visual puns makes me smile, makes me dream.

Betty WINKLER: I've always felt that in Francis Bacon's work it was my soul he'd splattered across his canvases. Wild colors that didn't seem to have been invented until he mixed them. The joy of grand painting and draftsmanship with the deep sorrow of the confusion and darkness within each of us. His ability to so accurately portray this confusion and its resultant emotions is a large part of his genius. Rothko is a kind of blending of Monet and Bacon, taken to further abstraction. I am safe when in front of just one of his paintings.
Betty Winkler Meditation 8
Dry Pigment on Paper
Betty WINKLER: In my own work, I find the darkness is as seductively enigmatic as the light. I am reaching and searching for light; yet I find comfort in the shadows.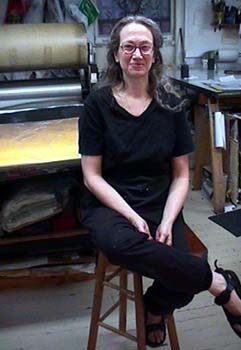 Betty Winkler
View Betty Winkler artworks
offered for sale in
Biddington's Contemporary Art Gallery
Paintings & Etchings
"Butterfly Series" Monoprints
Price range: $185-$2,500
Betty Winkler Selected Recent Exhibitions:
1999 Penumbra, Galer&iacutea ICPNA, Lima, PERU
1998 Faculty Show Manhattan Graphics Center, New York City
1998 Friends, 55 Mercer Gallery, New York City
1997 Prospettive, Biblioteca Casantense, Rome, ITALY
1997,1996 Atelier A/E, New York City

Betty Winkler is owner/director of Yama Prints a printshop for fine art graphics.
Editor's Note: In the images presented here of Betty Winkler's works, the edges of the paper has been lost. When framing, we suggest float-mounting these works since the irregular edge enhances the texture of the paintings.
ABOUT THIS FEATURE
CREATIVE PROCESS at Biddington's is designed as a forum for watching art in the making. Usually, this process happens in the privacy of the artist's studio. At BIDDINGTON'S Contemporary Art Gallery & upmarket, online art & antiques auction--we find it interesting to witness the steps leading to the end product and to hear the artists speak about their work in the relaxed surroundings of their own studios.



Contact Biddington's

BIDDINGTON'S CREATIVE PROCESS Archives:
Sigmund Abeles Expressive Realist Painter
Javier Astorga Figurative Metal Sculpture
Nancy Azara Sculptor
Tova Beck-Friedman Sculptor & Mixed-Media Artist
Todd Bellanca Abstract Painter
Carol Bruns Bronze Figurative Sculptor
James Burnett Non-Objective Painter
Garrison Buxton Abstract Paintings on Paper
Cynthia Capriata Peruvian Painter & Printmaker
Catalina Chervin Argentine Surrealist Artist
Diane Churchill Expressionist Painter
John Clem Clarke Pop Artist
Lisa Dinhofer Illusionist Painter
Michael Eastman Faux-Primitive Painter
Eduardo Fausti Natural History Paintings
Lynne Frehm New York Abstract Painter
Betsey Garand Organic Abstract Painter & Fine Art Printmaker
Mary Teresa Giancoli Personal Documentary Photographer
Debora Gilbert-Ryan New Image Painter
Janet Goldner African-Influenced Steel Sculpture
Harry Gordon Monumental Sculpture
Marilyn Greenberg Narrative Abstract Painter
Patricia Hansen Portrait and Still Life Painter
Richard Heinrich Welded Steel Sculpture
Charles Hewitt Painter & Monotype Printmaker
Diane Holland Intermedia Collage Artist
GH Hovagimyan Pop/Conceptual Artist
LA Hughes Pop Artist
Frances Jetter Bronze Sculptor & Editorial Illustrator
Scott Kahn Fantasy Painter
Susan Kaprov Digital Printmaker and Abstract Painter
Babette Katz Narrative Printmaker and Book Artist
Richard Mock Abstract Painter & Linocut Printmaker
Bill Murphy Contemporary Realist Painter
Jim Napierala Abstract Painter
Frances Pellegrini New York City & Fashion Photographer
Joseph Reeder Cross Media Artist Paintings & Ceramics
Laura Shechter Contemporary Realist Painter
Annemarie Slipper Figurative Ceramic Sculpture
Gary Slipper Fantasy Painter
Margaret Speer Landscape & Travel Paintings
Serena Tallarigo Marble Sculptor
Rein Triefeldt Kinetic Sculpture
Vivian Tsao Painter of Light
Nancy Van Deren Contemporary Painter
Joan Berg Victor Drawings from Nature
Edward Walsh Figurative Sculpture in Bronze, Marble & Steel
Kate Wattson Contemporary Colorist Painter
Betty Winkler Organic Minimalist Painter &amp Printmaker


COPYRIGHT: Images and information within www.biddingtons.com are Copyright Biddington's, Inc. 1997-2005--except where superceded by individual copyrights of the artists.
Downloading or printing for online or print reproduction of any materials without specific written permission from Biddington's, Inc. is prohibited.





PEDIGREE & PROVENANCE--art words & terms defined. JAKE BIDDINGTON'S INVESTING--financial advice for art collectors.
BIDDINGTON'S BENTLEY--travel for the art connoisseur. BIDDINGTON'S APPRAISALS & VALUATIONS