LYNNE FREHM--Available Paintings. BIDDINGTON'S CONTEMPORARY ART GALLERY--More Abstract Paintings
Lynne Frehm
New York Abstract Painter
Current Exhibition:
Lynne Frehm Recent Paintings
May 17-June 25, 2011
Andre Zarre Gallery, 529 West 20th Street 7th Floor, New York, NY 10011



CREATIVE PROCESS looks at six examples of Frehm's work produced from 1975-1996 in New York's Soho.
Frehm's Soho Studio



FREHM: Basically, you start by messing up the surface. My earlier work is figurative. The model is simply a take-off point; I never feel bound by a particular image or subject. As I work, a certain vision comes and I push that vision.





"Clown" 1976 (Private Collection, NYC)
FREHM: In Clown I am still working with models, particularly with expressions. Whenever I look back at earlier work, I feel like someone else did it. I feel very objective about it. But seeds planted years ago always flower. My work has grown more abstract, but I still see images in it.

FREHM: Stylistically, I suppose I could be called a third generation Abstract Expressionist--but it's too complicated a name. A group of us who have worked here in Soho for many years have decided to call ourselves simply "New York Abstract Painters".
That group includes many painters from the 1998 "Fanelli's Show" at OK Harris.


"Black Sails" 1975 -1978 (Private Collection, NYC)
"Night Sail" from 1997 returns to this theme.

FREHM: "Black Sails" is the first piece from the 102 Wooster studio. This is early in a series of abstract work. Sometimes you beat one or two of them to death. I have no real conscious control when I'm working--there's a point where I feel like a medium. The fact that I don't know how I did the work makes me feel better. I'd worry if I had a formula.




"Untitled" Abstract 1982 (Private Collection, NYC)
FREHM: During this period I spent more time at the beach. So the work is more atmospheric. You feel the elements. I never sit down to do a painting of wind and light--it just comes out.

I was hot when this painting happened; there was no struggle for it. This painting gave me pleasure--it still gives me pleasure. I never let any piece leave the studio unless I feel its OK. But some have more in them than others--this is one of those for me.




"King Bill" 1992 (Private Collection, NYC)


FREHM: First of all, I usually don't work with a specific thing in mind. I did this as a birthday present. I wanted to build up the paint so that it looked like the icing on the birthday cake. I used to bake with my grandmother, and I liked to watch how she iced cupcakes. I just glopped that paint on. I was so happy with this piece because it was so loose yet still held together. When I put it in the box it was still wet--just like a birthday cake.









"Wedding" 1993 (Private Collection, NYC)

FREHM: This was my first work after a major show--at Ruth Siegel. It's hard after a show. You feel like you're starting all over again. In this piece, I didn't feel in control--I felt my hand was ahead of me. I wanted color. I wanted fireworks. I was working in oil stick along with paint. The stick gave me an edge quicker than with brushes and I could really move.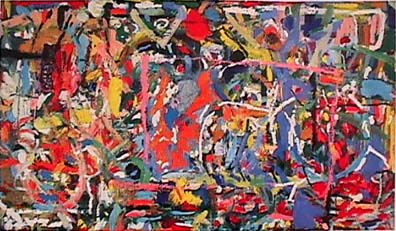 "Secret Places" 1995-96

FREHM: This is from the Andre Zarre show (in 1996). Here I am changing the space--a major change in dealing with the picture plane. I'm getting away from this illusionistic sense of perspective and instead thinking about the literal surface of the canvas. What I'm doing is dealing with color--not drawing-- in creating perspective. This is more about paint. This was a very complicated period in my life. In the past I had created more rest periods in my work. In this piece, I put a lot in but still orchestrated all the elements.


Lynne Frehm
See Lynne Frehm's Paintings for Sale at
BIDDINGTON'S CONTEMPORARY ART.
Price range: $2,500-$20,000.
Lynne Frehm Selected Exhibition History :
Andre Zarre, New York City (2011 & 2002 solo, 1996 & 1997 solo & group)
Exhibit A, New York City (2000 solo)
OK Harris Gallery "The Fanelli Show", New York City (1998 group)
Beatrice Conde Gallery, New York City (1997 group)
Allan Stone, New York City (1995 group)
Blondie's Contemporary Art, New York City (1991-1994 group)
Ruth Siegel, New York City (1991 solo)
Attutude Art, New York City (1987 group)
Landmark, New York City (1978 group)
Federal Couthouse, NYC Organization of Independent Artists (1977 group)
Bruce Museum, Connecticut (1974 solo)
Norwalk Museum, Connecticut (1973 solo)
Yale University, Connecticut (1968 group)

Corporate Collections:
Lifetime Television, New York City
ABOUT THIS FEATURE
CREATIVE PROCESS at Biddington's is designed as a forum for watching art in the making. Usually, this process happens in the privacy of the artist's studio. At BIDDINGTON'S Contemporary Art Gallery, we find it interesting to witness the steps leading to the end product and to hear the artists speak about their work in the relaxed surroundings of their own studios.



Email Biddington's with your comments.

BIDDINGTON'S CREATIVE PROCESS Archives:
Sigmund Abeles Expressive Realist Painter
Javier Astorga Figurative Metal Sculpture
Nancy Azara Sculptor
Tova Beck-Friedman Sculptor & Mixed-Media Artist
Todd Bellanca Abstract Painter
Carol Bruns Bronze Figurative Sculptor
James Burnett Non-Objective Painter
Cynthia Capriata Peruvian Painter & Printmaker
Catalina Chervin Argentine Surrealist Artist
Diane Churchill Expressionist Painter
John Clem Clarke Pop Artist
Lisa Dinhofer Illusionist Painter
Michael Eastman Faux-Primitive Painter
Lynne Frehm New York Abstract Painter
Betsey Garand Minimalist Painter & Fine Art Printmaker
Mary Teresa Giancoli Personal Documentary Photographer
Debora Gilbert-Ryan New Image Painter
Janet Goldner African-Influenced Steel Sculpture
Harry Gordon Monumental Sculpture
Marilyn Greenberg Narrative Abstract Painter
Patricia Hansen Portrait and Still Life Painter
Richard Heinrich Welded Steel Sculpture
Charles Hewitt Painter & Monotype Printmaker
Diane Holland Intermedia Collage Artist
GH Hovagimyan Pop/Conceptual Artist
LA Hughes Pop Artist
Frances Jetter Bronze Sculptor & Editorial Illustrator
Scott Kahn Fantasy Painter
Susan Kaprov Digital Printmaker and Abstract Painter
Babette Katz Narrative Printmaker and Book Artist
Richard Mock Abstract Painter & Linocut Printmaker
Bill Murphy Contemporary Realist Painter
Jim Napierala Abstract Painter
Frances Pellegrini New York City & Fashion Photographer
Eolo Pons Argentine Master
Joseph Reeder Cross Media Artist Paintings & Ceramics
Laura Shechter Contemporary Realist Painter
Annemarie Slipper Figurative Ceramic Sculpture
Gary Slipper Fantasy Painter
Margaret Speer Landscape & Travel Paintings
Serena Tallarigo Marble Sculptor
Rein Triefeldt Kinetic Sculpture
Vivian Tsao Painter of Light
Nancy Van Deren Contemporary Painter
Joan Berg Victor Drawings from Nature
Edward Walsh Figurative Sculpture in Bronze, Marble & Steel
Kate Wattson Contemporary Colorist Painter
Betty Winkler Organic Minimalist Painter &amp Printmaker





COPYRIGHT: Images and information within www.biddingtons.com are Copyright Biddington's, Inc.--except where preceded by individual copyrights of the artists.
Downloading or printing for online or print reproduction of any materials without specific written permission from Biddington's, Inc. is prohibited.





PEDIGREE & PROVENANCE--art words & terms defined. JAKE BIDDINGTON'S INVESTING--financial advice for art collectors.
BIDDINGTON'S BENTLEY--travel for the art & antiques connoisseur. MY ART--Art for kids.