ANNEMARIE SLIPPER--Sculpture for Sale. BIDDINGTON'S ART GALLERY--More Sculpture for Sale.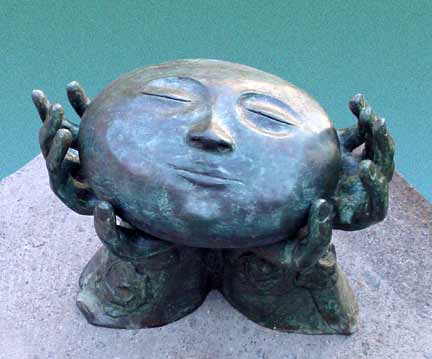 ANNEMARIE SLIPPER
Figurative Bronze and Ceramic Sculpture
CREATIVE PROCESS visits the San Miguel de Allende (Mexico) studio of sculptor Annemarie Slipper.
Annemarie Slipper Hands and Moon
Bronze Garden Sculpture








AM Slipper: I'm Canadian, from Montreal; I studied painting at McGill. After university I painted for a few years. Then I got married and had three children. It was in Toronto, in an adult education program--a wonderful public works program during the 70's-- that I started making ceramics. Painting had always given me problems, but ceramics were total pleasure--love at first sight.
Sculptor Annemarie Slipper in San Miguel de Allende, Mexico





AM Slipper: At first, I made practical pieces; about 20 years ago, I began making sculpture. At this time I was also working at a fulltime job doing props for TV. It wasn't until I got together with Gary, (editors' note: fantasy painter Gary Slipper), that I started concentrating entirely on my art. My earlier sculpture was high-fired stoneware produced in an electric kiln. More recently, I have been casting sculptures in bronze as well as continuing to work in ceramic.
Stoneware Ceramic Heads by Annemarie Slipper


AM Slipper: We came to Mexico 15 years ago; Toronto was becoming very expensive. We were touring and stopped in San Miguel intending to spend just the night... Mexico is a comfort; it's so surreal. It can be quite wonderful and quite awful--but never predictable. It's a place where we can fully concentrate. We can work and have people to look after us, and the climate is divine.





Low-fired Mexican Folk Art Ceramics from Guanajuato and Michoacan









AM Slipper: Mexican ceramics are low-fired earthenware, and I switched to low-firing when I moved here. My clay is specially mixed by a clay artist with ingredients from all over Mexico. It has quite a lot of "grog"-- the binder that strengthens the clay. Using a raku technique, I take the piece out of the hot kiln then into a combustible (I use newspaper) to fire the glaze. During the firing process, I don't use cones (thermometers), I use my eyes.













AM Slipper: Much of the time I use the same glaze; its color can vary from a flat brown to an iridescent bluish-silver depending on the firing temperature. All my pieces are burnished to bring out the form of the sculpture and the quality of the clay. This process takes a lot of time, but I value the result. My pieces are meant to be touched.
Annemarie Slipper Singing Angel
Ceramic Sculpture with Burnishing








AM Slipper: To add detail, sometimes I paint the pieces with a touch of watercolor which the clay easily absorbs. Then I wax the surface to affix the color.
Annemarie Slipper Day of the Dead Ceramic Mask with Watercolor Highlights




AM Slipper: I started using stamps some time ago. When I came to know Mexican ceramics, I was interested to find stamping on old pots. To make new stamps, I use various tools--but my hands are my best tool. Found objects, like this simple earring, sometimes make good stamps.





AM Slipper: In the markets here, sometimes I'll find old stamps--pieces that have obviously been pit-fired--and make molds and new stamps from them. I affix the stamps to the body of the sculpture using a light layer of slip that acts like glue.
Annemarie Slipper Raku-fired Ceramic Sculpture
The Warrior
AM Slipper: The Spanish colonial influence is strong in San Miguel; it was bound to surface in my work.









AM Slipper: "The Prince" was an early work in the "Conquistadores" series; my later ones use black rather than terracotta-colored clay. In this piece I wanted a subtle golden surface. I tend to keep the color quite low.
Annemarie Slipper The Prince
Burnished and Stamped Ceramic Sculpture


AM Slipper: Works like "The Prince" and "The Warrior" are in three separate pieces: the head (which can be turned), the shoulders and the base.




AM Slipper: The bases for my sculpture evolved from simple necessity--I couldn't find anything readily available that I liked. So, I decided to create an appropriate base for the piece.











AM Slipper: No matter what museum I visit, I always like to look at the Cycladic art collection as well as older Eskimo art and Chinese funerary figures. These are all important influences on my work.
Annemarie Slipper House Guardian
Bronze Sculpture with Movable Head







AM Slipper: Here in San Miguel, we are surrounded by Mexican craft. I don't make a distinction between art and craft. A lot of the primitive pieces are so wonderful that they go beyond mere craft.
Annemarie Slipper's Sculpture Studio





AM Slipper: Also, I enjoy the special occasion folk art objects created here: like the sugar sculptures for the Day of the Dead.




Annemarie Slipper Animal Skull
Wall-Mounted Bronze Sculpture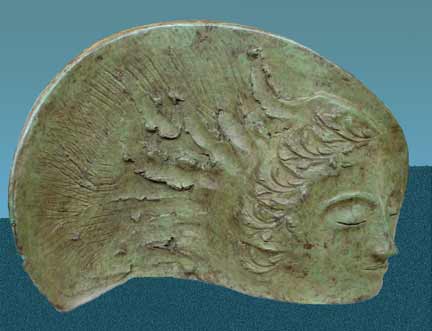 AM Slipper: Much of my recent work has been in bronze. Bronze is durable and the works are suitable for outdoor garden environments in climates less mild than the one we enjoy here in San Miguel. In making a bronze, the patina is a parallel to the glazes in ceramics--though of course learning and applying the technique is different. I like to set challenges for myself; I like to keep moving.



Annemarie Slipper The Wind (back)
Two-Sided Bronze Sculpture
Annemarie Slipper
View sculpture by Annemarie Slipper offered for sale in
Biddington's Contemporary Art Gallery.
Price range: $900-$3000
Editor's Note: Figurative bronze and ceramic sculptor Annemarie Slipper lives and works with her husband, fantasy painter Gary Slipper, in the colonial town of San Miguel de Allende, Mexico. Although vastly different in choice of subject matter and media, these artists have interesting features in common:
Both are remarkably deft in their technical abilities and subtle in their use of color. Both Annemarie and Gary Slipper have assimilated aspects of the fine and folk art of contemporary Latin America and instinctively blend it with the European tradition in their work.
Visit the studio of fantasy painter Gary Slipper.
For photos of contemporary Mexican culture,
visit the studio of documentary photographer Mary Teresa Giancoli.
ABOUT THIS FEATURE
CREATIVE PROCESS at Biddington's is designed as a forum for watching art in the making. Usually, this process happens in the privacy of the artist's studio. At BIDDINGTON'S Contemporary Art Gallery & upmarket, online art & antiques auction--we find it interesting to witness the steps leading to the end product and to hear the artists speak about their work in the relaxed surroundings of their own studios.



Email Biddington's with your comments.

BIDDINGTON'S CREATIVE PROCESS Archives:
Sigmund Abeles Expressive Realist Painter
Nancy Azara Sculptor
Tova Beck-Friedman Sculptor & Mixed-Media Artist
Todd Bellanca Abstract Painter
Carol Bruns Bronze Figurative Sculptor
James Burnett Non-Objective Painter
Cynthia Capriata Peruvian Painter & Printmaker
Catalina Chervin Argentine Surrealist Artist
Diane Churchill Expressionist Painter
John Clem Clarke Pop Artist
Lisa Dinhofer Illusionist Painter
Tom Duncan Narrative Polychrome Sculpture
Michael Eastman Faux-Primitive Painter
Lynne Frehm New York Abstract Painter
Betsey Garand Minimalist Painter & Fine Art Printmaker
Mary Teresa Giancoli Personal Documentary Photographer
Debora Gilbert-Ryan New Image Painter
Janet Goldner African-Influenced Steel Sculpture
Harry Gordon Monumental Sculpture
Marilyn Greenberg Narrative Abstract Painter
Patricia Hansen Portrait and Still Life Painter
Richard Heinrich Welded Steel Sculpture
Charles Hewitt Painter & Monotype Printmaker
Diane Holland Intermedia Collage Artist
GH Hovagimyan Pop/Conceptual Artist
LA Hughes Pop Artist
Frances Jetter Bronze Sculptor & Editorial Illustrator
Scott Kahn Fantasy Painter
Susan Kaprov Digital Printmaker and Abstract Painter
Babette Katz Narrative Printmaker and Book Artist
Richard Mock Abstract Painter & Linocut Printmaker
Maureen Mullarkey Figure Paintings
Bill Murphy Contemporary Realist Painter
Jim Napierala Abstract Painter
Frances Pellegrini New York City & Fashion Photographer
Joseph Reeder Cross Media Artist Paintings & Ceramics
Laura Shechter Contemporary Realist Painter
Annemarie Slipper Figurative Ceramic Sculpture
Gary Slipper Fantasy Painter
Margaret Speer Landscape & Travel Paintings
Serena Tallarigo Marble Sculptor
Rein Triefeldt Kinetic Sculpture
Vivian Tsao Painter of Light
Nancy Van Deren Contemporary Painter
Joan Berg Victor Drawings from Nature
Edward Walsh Figurative Sculpture
Kate Wattson Contemporary Colorist Painter
Betty Winkler Organic Minimalist Painter &amp Printmaker


PEDIGREE & PROVENANCE--art words & terms defined. JAKE BIDDINGTON'S INVESTING--financial advice for art collectors.
BIDDINGTON'S BENTLEY--travel for the art & antiques connoisseur. MY ART--Art for kids.
BIDDINGTON'S--Home & Search