PEDIGREE & PROVENANCE--art words & terms defined. JAKE BIDDINGTON'S INVESTING--financial advice on art collecting
BIDDINGTON'S BENTLEY--travel for the art & antiques connoisseur. MY ART--art for kids.
BIDDINGTON'S--Home & Search
BABETTE KATZ
Narrative Printmaker and Book Artist
Summer 2001 Exhibition:
BABETTE KATZ "Linocut Stories"
July 14-August 3, 2001
The New York Public Library
Donnell Library Center--Main Floor
20 West 53rd Street, New York City
BIDDINGTON'S CREATIVE PROCESS interviews relief print and book artist Babette Katz in her Westchester, New York studio.




Babette Katz: For me, making art has to do with the heart, the hands and the materials. Black and white linoleum cut, with its limited palette, gives me the opportunity to work for conciseness, economy and expressive force.

Babette Katz: Black ink, white paper and pared-down linoleum carry the burden of proof.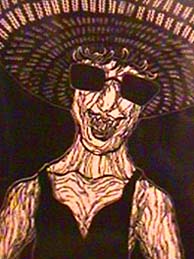 Babette Katz: Cutting and incising, you feel you can carve your way to the emotional center of the truth.





Detail of Babette Katz relief print Sunhat







Babette Katz: There is a tradition of social and political commentary in black and white relief printmaking. Its high contrast impact and textural quality are capable of expressing anxiety and strong emotion.



Babette Katz: I like the simplicity of the materials I use--carving tools, rollers, ink, linoleum and the back of a spoon (for rubbing and transferring the reversed, inked image onto the paper.) Also, the whole sensual aspect of relief printing is very appealing: You place a fine piece of rice paper on the rough carved surface of a sheet of linoleum and come up with a fully-realized dramatic image.


Babette Katz relief print At the Beach
Babette Katz: Black and white are gripping, exciting and consoling to me, so I indulge myself in using them. Self-indulgence isn't such a bad thing for an artist. It can help you find your own voice.



Babette Katz: Scarf City and Scarf City Woman are part of a series of prints I did on the subject of Manhattan. It was a tribute to the infinite variety of the city as reflected in its architecture and its emblematic women.
Babette Katz relief print Scarf City




Babette Katz: I made the Celebrity Portrait series of Bette Midler, Cher and some others stars because images of these people are as much a part of our shared visual field as trees, clouds and sunshine. The artist Boldini did stylized portraits of society figures in the early 20's. I wanted to bring the same sense of eccentric elegance and character to studies of contemporary personae who so occupy the public imagination.



















Babette Katz: In "This Dream", from the late 1970's, I wanted to give a sense of the materiality--and poignance--of the physical world as in a bubble between water, sky and eternity.





Detail of Babette Katz linocut "This Dream"





Babette Katz: As a rule, my prints are done in editions of 20. After making 20 prints I find myself starting to lose interest in the process--though there are exceptions.




Babette Katz: Artists who've interested me have generally been strong draftsmen. I love line and came to an appreciation of color later in life.

Babette Katz: I've been influenced by and admire the work of Shiko Munakata, Antonio Frasconi, Fritz Eichenberg, Egon Schiele, Daumier, Durer, Van Gogh, Toulouse Lautrec and Picasso.

Babette Katz: When I first saw artists' books in museum exhibits many years ago, I was puzzled that they were limited to vituoso performances of beautiful printing & images whose subjects were often brief excerpts from classic literature. I wondered why no one made brief, beautiful books that were entire stories--worlds unto themselves. So I started to make linocut visual narratives. (I later discovered the work of Franz Masereel, a pioneer of the wordless black and white narrative.)




Babette Katz: A Winter's Tale is a story of the shifting emotional balance between people once they are engaged in any kind of contact. A wordless artists' book, relying solely on images as sequencing for its meaning, expands the emotional reach of the story.

Babette Katz: Another of my artists' books Yarn is about the illusion that you are making your own choices, when--in fact--choices are being made for you. That book is about being overcome by your own destiny.
Babette Katz


Babette Katz: My artists' books are an effort at permanence and at codifying things that have been significant to me.






View Babette Katz's relief prints offered for sale in
BIDDINGTON'S Contemporary Art Gallery.
Price Range: $250-$600



Editor's Note: Babette Katz's artist's books are printed in small editions of 500 to 1000 copies are printed by the Visual Studies Workshop Press. These books are available at The New York Public Library Gift Shop, Whitney Museum of American Art Gift Shop, Printed Matter (NYC) and Museum of Contemporary Art in Chicago. For purchases of 10 books or more, please contact: webmaster@biddingtons.com




BIDDINGTON'S CREATIVE PROCESS Archives:
Sigmund Abeles Expressive Realist Painter
Nancy Azara Sculptor
Carol Bruns Bronze Figurative Sculptor
James Burnett Non-Objective Painter
Cynthia Capriata Peruvian Painter & Printmaker
Catalina Chervin Argentine Surrealist Artist
Diane Churchill Expressionist Painter
John Clem Clarke Pop Artist
Lisa Dinhofer Illusionist Painter
Tom Duncan Narrative Polychrome Sculpture
Michael Eastman Faux-Primitive Painter
Lynne Frehm New York Abstract Painter
Betsey Garand Minimalist Painter & Fine Art Printmaker
Mary Teresa Giancoli Personal Documentary Photographer
Debora Gilbert Ryan New Image Painter
Harry Gordon Monumental Sculpture
Marilyn Greenberg Narrative Abstract Painter
Patricia Hansen Portrait and Still Life Painter
Richard Heinrich Welded Steel Sculpture
Charles Hewitt Painter & Monotype Printmaker
Diane Holland Intermedia Collage Artist
GH Hovagimyan Pop/Conceptual Artist
LA Hughes Pop Artist
Frances Jetter Bronze Sculptor & Editorial Illustrator
Scott Kahn Fantasy Painter
Susan Kaprov Digital Printmaker and Abstract Painter
Babette Katz Narrative Printmaker and Book Artist
Richard Mock Abstract Painter & Linocut Printmaker
Maureen Mullarkey Figure Paintings
Bill Murphy Contemporary Realist Painter
Jim Napierala Abstract Painter
Lucille Nurkse Collage Artist and Painter
Frances Pellegrini New York City & Fashion Photographer
Joseph Reeder Cross Media Artist Paintings & Ceramics
Laura Shechter Contemporary Realist Painter
Annemarie Slipper Figurative Ceramic Sculpture
Gary Slipper Fantasy Painter
Margaret Speer Landscape and Travel Paintings
Serena Tallarigo Marble Sculptor
Rein Triefeldt Kinetic Sculpture
Vivian Tsao Painter of Light
Nancy Van Deren Contemporary Painter
Kate Wattson Contemporary Colorist Painter

Comments?




ABOUT THIS FEATURE
CREATIVE PROCESS at Biddington's is designed as a forum for watching art in the making. Usually, this process happens in the privacy of the artist's or artisan's studio. At BIDDINGTON'S--Contemporary Art Gallery & upmarket, online art & antiques auctions--we find it interesting to witness the steps leading to the end product and to hear the artists speak about their work in the relaxed surroundings of their own studios.
BIDDINGTON'S ART GALLERY--Contemporary Paintings, Sculpture & Prints. REGISTER to Buy or for Mailing List.
BIDDINGTON'S--Home & Search