BIDDINGTON'S ART GALLERY--Paintings, Sculpture & Prints. PEDIGREE & PROVENANCE--Art words & terms.
Betsey Garand
Organic Abstract Painter & Printmaker
Editor's Note: The text of this archived Biddington's artist interview dates from 2001/2004. It provides context for understanding the development of the artist's subsequent work. Go to Betsey Garand to see her recent paintings, prints and current resume.




CREATIVE PROCESS talks with artist Betsey Garand about her body of work and her background as a painter and fine art printmaker in this 2001 studio visit.

Betsey Garand: The seed of my work was planted in New Hampshire where I grew up on a farm surrounded by nature. Frogs' eggs, peas in a pod & plump spiders--circular entities that become life, devour and adorn it--all contributed to my visual vocabulary.










Betsey Garand: In a group of drawings entitled Cavalcade series, I used wax and oil crayon. Oil crayon is one of my preferred mediums; it is full-bodied texturally and absorbs light, creating a rich color surface.
Cavalcade 2 (right)
Oil Crayon on Paper, 2001

Betsey Garand: The parameters of my work are four sides of a two-dimensional rectangle: introducing organic structure onto a geometric surface.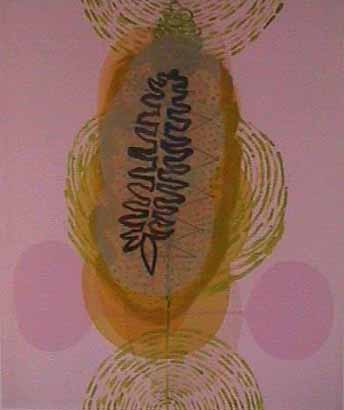 Betsey Garand: Part of my interest in nature is the idea of a continuum. I like the idea of images continuing off the page.
Sprig IV (left)
Monotype, 2004
Betsey Garand drawing Jester #15 (left)



Betsey Garand: Jesters were an earlier (1995-7) series of drawings dealing with the imagined and the seen. Court jesters satirically commented on the serious nature of a society and its politics; this dichotomy attracted me to the jester as an idea.



Betsey Garand drawing Jester #16 (right)












Betsey Garand: My group of paintings on wooden panel--a series entitled Source--builds upon some of the visual elements in the Jester series.




Source 3
Oil on Birch Panel, 2001







Betsey Garand: Artifacts of adornment are also of great interest to me. The aspect of embellishing ones' body for symbolic or ornamental purposes is an integral element of most cultures. Some of the works in the Link series derive from Greek jewelry--specifically the Madytos from 330-300 BCE. This period contains many examples whose forms are directly influenced by nature in which floral patterns and seedlike pendants abound.





Link 12 (left)
Black & White Oil Crayon on Paper, 1999


Betsey Garand: In 1990, I received a Pollock-Krasner Foundation Grant and used it to purchase this incredible printing press. It is the first of its kind made by David Davis per my request.


Fine Art Printmaker Betsey Garand with Her Printing Press


Betsey Garand: A monotype is a "one of a kind" method of printmaking; unlike other printmaking methods, it cannot be editioned. In this way, a monotype is unique, as is a painting or a drawing.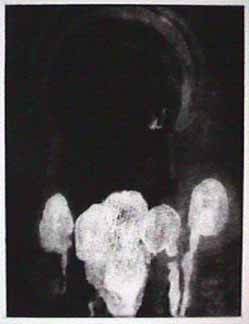 Betsey Garand: As a printmaking technique, monotype has numerous possibilities. My method is the act of drawing or painting on a zinc plate with ink. I utilize rollers, brushes, cloth and pencils to create an image. I run this image through the press transferring the inked image on the plate to the surface of the paper. The print cannot be duplicated, (i.e. editioned), because there is no fixed image on the plate.
ED Pentimento XIII (left)
Monotype, 2003




Betsey Garand: The rich, velvety black of printed ink is one of the reasons I make prints. The depth of black is unique to the process and cannot be imitated in any other medium. It is the result of both the ink color and the meshing of the ink within the paper fibers during printing.



Jot #20
Monotype Print 1995



Betsey Garand: In Jot #20", the large ellipse relates to all the smaller ones and makes a dynamic contrast to the square. The black center anchors the composition in space: geometry and nature entwined. A regeneration of form, changing, evolving, being--linking past to present.










Betsey Garand




Betsey Garand Exhibitions (abbreviated list):
2004--Wall Works: Brenda Garand & Betsey Garand, LSU School of Art Gallery, Baton Rouge, LA
14th Biennial Small Print Exhibition, Purdue University Galleries, West Lafayette, IN
A.I.R. Gallery, NYC
2003--1926 Gallery, School of the Art Institute of Chicago, Chicago, IL
Mead Art Museum, Amherst College, Amherst, MA
Heistand Gallery, Miami University, Oxford, OH
2002--Two Ones: Brenda Garand Betsey Garand, iM n iL Gallery, Brooklyn, NY
LaGuardia College, Long Island City, NY
808 Gallery, Boston University, Boston, MA
2001--Painters Invite Painters, Foster Gallery, LSU Baton Rouge, LA
16th Annual National Works on Paper, University of Texas at Tyler
2000--50th Berkshire Art Assn. Exhibition, Hannah Gallery, stockbridge, MA
1999--Black and White and Color, AIR Gallery, NYC
Dartmouth College, Hanover, NH
1998 & 1997--The Rotunda Gallery, Brooklyn, NY
1998--Across the Grain: An American Woodcut Portfolio, traveling exhibition California State University, Long Beach,
University of Texas, Tyler & University of Delaware, Newark
1997 & 1996--Pierogi 2000, Manchester, UK & NYC
1997--A.I.R. Gallery, NYC
City College of New York, NYC
1996--New York University, NYC
The Berkshire Museum, Pittsfield, MA
1996 & 1988--University of New Hampshire, Durham
1995--Art Initiatives, NYC
1994, 1993 & 1992--Arkansas Arts Center, Little Rock, AK

Betsey Garand Collections (abbreviated list):
California State University (at Long Beach) Museum of Art
Santa Barbara Museum of Art, CA
UCLA Grunwald Center for the Graphic Arts, CA
Arkansas Arts Center, Little Rock, AK
Tokyo Geijutsu Daigaku, Japan
Temple University, Philadelphia, PA
University of Massachusetts, Amherst, MA
University of New Hampshire, Durham, NH

Betsey Garand Teaching (abbreviated list):
2002 to Present--Amherst College, Amherst, MA
1998-2001--Princeton University, Princeton, NJ
1995-2001--Queens College City University of New York, Flushing, NYC

Betsey Garand Grants and Fellowships:
1999--MacDowell Colony, Peterborough, NH
1998,1996, 1989--Dorland Mountain Arts Colony, Temecula, CA
1990--Pollock-Krasner Foundation Grant


ABOUT THIS FEATURE
CREATIVE PROCESS at Biddington's is designed as a forum for watching art in the making. Usually, this process happens in the privacy of the artist's studio. At BIDDINGTON'S Contemporary Art Gallery, we find it interesting to witness the steps leading to the end product and to hear the artists speak about their work in the relaxed surroundings of their own studios.



Email Biddington's with your comments.

BIDDINGTON'S CREATIVE PROCESS Archives:
Sigmund Abeles Expressive Realist Painter
Javier Astorga Figurative Metal Sculpture
Nancy Azara Sculptor
Tova Beck-Friedman Sculptor & Mixed-Media Artist
Todd Bellanca Abstract Painter
Carol Bruns Bronze Figurative Sculptor
James Burnett Non-Objective Painter
Cynthia Capriata Peruvian Painter & Printmaker
Catalina Chervin Argentine Surrealist Artist
Diane Churchill Expressionist Painter
John Clem Clarke Pop Artist
Lisa Dinhofer Illusionist Painter
Michael Eastman Faux-Primitive Painter
Lynne Frehm New York Abstract Painter
Betsey Garand Minimalist Painter & Fine Art Printmaker
Mary Teresa Giancoli Personal Documentary Photographer
Debora Gilbert-Ryan New Image Painter
Janet Goldner African-Influenced Steel Sculpture
Harry Gordon Monumental Sculpture
Patricia Hansen Portrait and Still Life Painter
Richard Heinrich Welded Steel Sculpture
Charles Hewitt Painter & Monotype Printmaker
Diane Holland Intermedia Collage Artist
GH Hovagimyan Pop/Conceptual Artist
LA Hughes Pop Artist
Frances Jetter Bronze Sculptor & Editorial Illustrator
Scott Kahn Fantasy Painter
Susan Kaprov Digital Printmaker and Abstract Painter
Babette Katz Narrative Printmaker and Book Artist
Richard Mock Abstract Painter & Linocut Printmaker
Bill Murphy Contemporary Realist Painter
Jim Napierala Abstract Painter
Frances Pellegrini New York City & Fashion Photographer
Eolo Pons Argentine Master
Joseph Reeder Cross Media Artist Paintings & Ceramics
Laura Shechter Contemporary Realist Painter
Annemarie Slipper Figurative Ceramic Sculpture
Gary Slipper Fantasy Painter
Margaret Speer Landscape & Travel Paintings
Serena Tallarigo Marble Sculptor
Rein Triefeldt Kinetic Sculpture
Vivian Tsao Painter of Light
Nancy Van Deren Contemporary Painter
Joan Berg Victor Drawings from Nature
Edward Walsh Figurative Sculpture in Bronze, Marble & Steel
Kate Wattson Contemporary Colorist Painter
Betty Winkler Organic Minimalist Painter &amp Printmaker





COPYRIGHT: Images and information within www.biddingtons.com are Copyright Biddington's, Inc.--except where preceded by individual copyrights of the artists.
Downloading or printing for online or print reproduction of any materials without specific written permission from Biddington's, Inc. is prohibited.





PEDIGREE & PROVENANCE--art words & terms defined. JAKE BIDDINGTON'S INVESTING--financial advice for art collectors.
BIDDINGTON'S BENTLEY--travel for the art & antiques connoisseur. MY ART--Art for kids.