EDWARD WALSH--Sculpture for Sale. BIDDINGTON'S ART GALLERY--More Paintings and Sculpture.
Edward Walsh
Figurative Sculpture in
Stainless Steel, Marble & Bronze
CREATIVE PROCESS visits sculptor Edward Walsh in his studio in Rockland County, New York.



Edward Walsh: I love using rich, durable materials to create works with inherent beauty and great longevity. Working in stainless steel, satined aluminum, marble or bronze, I feel equally at home.



Edward Walsh Sonia
Satined Aluminum Sculpture
15" high

Edward Walsh: Stainless steel is by far the most difficult of these materials especially when one brings the finish up to a mirror polish--a time-consuming, labor-intensive process, but one that gives a beautiful result. Many of the tools used for sculpting in one medium are transferable to another--particularly in the grinding and polishing steps.


Edward Walsh Shark
Polished Stainless Steel Sculpture
20" long x 6.5" high x 11" deep



Edward Walsh: I make drawings first and from them I make small to full-scale models, especially if the piece is to be made in stone where the material is not replaceable,


Edward Walsh Preparatory Sketch for Sculpture


Edward Walsh: I always have several pieces under way. It is a great luxury to be able to "wait" for the right answer to present itself. This type of waiting can take days or years and comes about while working on another piece and often occurs while working in a totally different medium. Inspiration comes from doing.


Edward Walsh Young Noble
Persian Pink Marble Sculpture
17" high x 9" wide x 10.5" deep


Edward Walsh: At present, I have a few water-like and also some kinetic pieces under way.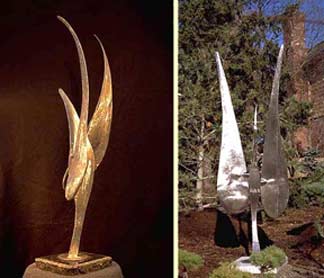 Sculpture Maquette Wind Bird &amp Large Kinetic Sculpture Wind Bird II
Edward Walsh: The small Wind Bird was a model for a prospective commission for a client. I fulfilled that commission, and later it gave me the urge to create another slightly different version, which became Wind Bird II--a kinetic sculpture in which the wings pivot in the wind. I've flown small planes and have done some gliding; I am intrigued by kinetic pieces that move on their own in response to indoor or outdoor air currents.




Edward Walsh: I was always the kid in the back of the room with a pencil drawing little figures. I kept trying to work out how you make a figure look more like a figure.


Edward Walsh Torso
Polished Stainless Steel Sculpture
37.5" high x 19" wide x 17" deep


Edward Walsh: I worked as an apprentice to figurative sculptor Manuel Carbonell a Cuban refugee who had moved to New York. Manuel continued my education and understanding of the human body using the book by the 16th century anatomist Versalius. Manuel gave me this book; I return to it time after time for an understanding of the figure begining with the skeleton as the body's frame and its covering of muscle and skin. It is a real treasure for me, and I recommend Versalius to anyone who uses the human form in their art.












Edward Walsh: Later, I went to Italy to create my own art pieces while also learning about and mastering the various hand and pneumatic tools used to carve marble. I rented space and compressor time in one of the oldest marble carving studios in Pietrasanta and worked next to a man who had been carving since he was fourteen--for twenty years. I would watch him closely, ask a few questions of him in my bad Italian and then set to work in my piece of stone. He was especially kind to me when he would say "basta" (stop) and point to his "occhio" (eye), which meant, "watch me". He then would take the tools out of my hands and give me a demonstration of what needed to be done for each critical step of the carving process that I was presently working on. He was my teacher in the most giving of ways.


Edward Walsh Stepping Out
Vermont Marble Sculpture
22" high x 14" wide x 8" deep



Edward Walsh: Either through age or through staightforward simplicity of design, line and form Egyptian, Greek, Chinese, Japanese, Mayan and African works have always caught my attention. Rodin, Michelangelo, Mestrovic, Archipenko, Giacometti and Brancusi top off my list of heros.


Edward Walsh Pink Fish
Portugese Marble Sculpture
36" long x 10" high x 1.5" deep




Edward Walsh: The practical aspects of creating sculpture make it very different from painting: As a professor in college once said to me: "The economics of an artists' materials most often drive and permit the artist to produce a work of art." The materials expense to create just one sculpture would be enough to pay for an entire show of paintings and their associated framing. Also, sculpture is often exposed to outside weather conditions, which demands every consideration in the choice of materials and how they are combined or bonded together.


Edward Walsh's Garden with Sculpture






Edward Walsh: The recognizable image is what I seek and pursue. It is the quiet interior strength of that image in art which the viewer can return to time and again without becoming bored or jaded. It is my ultimate goal.




Edward Walsh
View Edward Walsh stainless steel, marble and bronze sculpture,
offered for sale in
BIDDINGTON'S Contemporary Art Gallery.
Price Range: $4,500-$125,000
Edward Walsh Recent Exhibitions (abbreviated):
Michael Altman Fine Art, NYC, 2008
Flywheel Gallery, Piermont, NY, 2002
Manchester, CT., Outdoor Sculpture Show, 2000-2001
The Ivoryton Mile Sculpture Show, CT 2000
Polo Gallery, Edgewater, NJ 1999
Rockefeller Center Flower & Garden Show, NYC 1997
Bernard-Biderman & Worth, NYC -One Man Show - 1996
Rockland Center for the Arts, NY 1995
The Bergen Museum, NJ -One Man Show- 1995
Miesner Soho, NYC 1993
L'Atelier Gallery, Piermont, NY 1989-1995-2002
Maya Gallery, Kumuela, Hawaii. 1987-1990
Kornbluth Gallery, Fairlawn, NJ 1987
Hopper House, Nyack, NY -One Man Show- 1986
White Pine Gallery, Chicago, IL 1986
Galleria Maray, Englewood, NJ -One Man Show- 1985
John Payson Galleries, ME & FL 1981-1985
Environment Gallery, NYC -One Man Shows- 1972-1976-1980

Edward Walsh Collections (abbreviated):
Full Scale, Inc., NYC
Touche-Ross International Executive Offices, NYC
Savin Business Machines, Valhalla, NY
Ellen McCluskey Design Group, NYC
Ert&eacute, Paris, France
L.J. Schultz & Co., Beverly Hills, CA
Mr. Merv Griffin, Hollywood, CA
EXXON Corp., Executive Offices, NYC
Farah Dibah, Former Empress of Iran
Ms. Kaye Ballard, Rancho Mirage, CA
Boose, Sickland & Martins, West Palm Beach, FL
Rockland Co. NY, Executive Awards Commission
Gerald Hines Real Estate Corp., Houston, TX
Castrol Oil Executive Offices, Wayne, NJ
New City, NY, Library Garden bas-relief commission
Cinquanta Restaurant, NYC
Bergen Museum, Paramus, NJ
Pomona Junior H.S., Garden Sculpture, Pomona, NY
Camp Venture / Holocaust Studies Memorial, Sparkill, NY
ABOUT THIS FEATURE
CREATIVE PROCESS at Biddington's is designed as a forum for watching art in the making. Usually, this process happens in the privacy of the artist's studio. At BIDDINGTON'S Contemporary Art Gallery & upmarket, online art & antiques auction--we find it interesting to witness the steps leading to the end product and to hear the artists speak about their work in the relaxed surroundings of their own studios.



Contact Biddington's

BIDDINGTON'S CREATIVE PROCESS Archives:
Sigmund Abeles Expressive Realist Painter
Javier Astorga Figurative Metal Sculpture
Nancy Azara Sculptor
Tova Beck-Friedman Sculptor & Mixed-Media Artist
Todd Bellanca Abstract Painter
Carol Bruns Bronze Figurative Sculptor
James Burnett Non-Objective Painter
Garrison Buxton Abstract Paintings on Paper
Cynthia Capriata Peruvian Painter & Printmaker
Catalina Chervin Argentine Surrealist Artist
Diane Churchill Expressionist Painter
John Clem Clarke Pop Artist
Lisa Dinhofer Illusionist Painter
Michael Eastman Faux-Primitive Painter
Eduardo Fausti Natural History Paintings
Lynne Frehm New York Abstract Painter
Betsey Garand Organic Abstract Painter & Fine Art Printmaker
Mary Teresa Giancoli Personal Documentary Photographer
Debora Gilbert-Ryan New Image Painter
Janet Goldner African-Influenced Steel Sculpture
Harry Gordon Monumental Sculpture
Patricia Hansen Portrait and Still Life Painter
Richard Heinrich Welded Steel Sculpture
Charles Hewitt Painter & Monotype Printmaker
Diane Holland Intermedia Collage Artist
GH Hovagimyan Pop/Conceptual Artist
LA Hughes Pop Artist
Frances Jetter Bronze Sculptor & Editorial Illustrator
Scott Kahn Fantasy Painter
Susan Kaprov Digital Printmaker and Abstract Painter
Babette Katz Narrative Printmaker and Book Artist
Richard Mock Abstract Painter & Linocut Printmaker
Bill Murphy Contemporary Realist Painter
Jim Napierala Abstract Painter
Frances Pellegrini New York City & Fashion Photographer
Joseph Reeder Cross Media Artist Paintings & Ceramics
Laura Shechter Contemporary Realist Painter
Annemarie Slipper Figurative Ceramic Sculpture
Gary Slipper Fantasy Painter
Margaret Speer Landscape & Travel Paintings
Serena Tallarigo Marble Sculptor
Rein Triefeldt Kinetic Sculpture
Vivian Tsao Painter of Light
Nancy Van Deren Contemporary Painter
Joan Berg Victor Drawings from Nature
Edward Walsh Figurative Sculpture in Bronze, Marble & Steel
Kate Wattson Contemporary Colorist Painter
Betty Winkler Organic Minimalist Painter &amp Printmaker


COPYRIGHT: Images and information within www.biddingtons.com are Copyright Biddington's, Inc. 1997-2005--except where preceded by individual copyrights of the artists.
Downloading or printing for online or print reproduction of any materials without specific written permission from Biddington's, Inc. is prohibited.





PEDIGREE & PROVENANCE--art words & terms defined. JAKE BIDDINGTON'S INVESTING--financial advice for art collectors.
BIDDINGTON'S BENTLEY--travel for the art connoisseur. BIDDINGTON'S APPRAISALS & VALUATIONS