CAROL BRUNS Recent Bronze Figurative Sculpture CAROL BRUNS Paintings
BIDDINGTON'S Art Appraisals & Valuations
Carol Bruns
Bronze Sculptor and Painter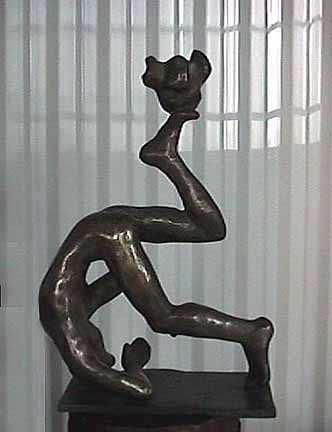 CREATIVE PROCESS visits the studio of sculptor & painter Carol Bruns
in the Dumbo(Down Under the Manhattan Bridge On-ramp) section of Brooklyn, New York.
Carol Bruns
Dancer (above)
from Bronze Sculptural Candlestick Group
The figure is A format to consider the enigmatic, dark, mysterious
A touchstone for inner awareness
A means of communicating
A window for viewing this moment
A site for spacious freedom, intuition, contemplation
A way to consider the past
--from Carol Bruns "Artist's Statement"
Carol Bruns
No Woman and Party Man (right)
Large Bronze Sculptures


Carol BRUNS: I'm interested in what the body is conveying when one tries to speak with it, but also when one is not aware of doing anything at all.




Carol Bruns
Fox
Small Bronze with Golden Brown Patina
on Steel Base


Carol BRUNS: By observation, I find beauty in a shape that may not be considered traditionally shapely or traditionally beautiful. I like odd presentations--as in an unusual base or a surprising placement--to let people look at my sculpture in a fresh way.


Carol Bruns
Spider
"Animal Dances" Bronze








Carol BRUNS: I attend dance performances and sketch at intermission. This helps me see how people use their bodies to communicate.


















Carol BRUNS: I work in wax and usually cast small--about 5 to 14 inches high--bronzes.
Small Wax Sculpture







Carol BRUNS: My intention is to enlarge the pieces to a scale appropriate for public spaces. For economic reasons, I cast the pieces small. Making a large bronze is very costly, so I don't do it unless I have a specific client for a big piece. I cast most of my work in Mexico.





Carol Bruns in Her Studio with Larger-Scale Bronzes (left)






Carol BRUNS: I like to be seduced and shocked by materials. So, I try to find new processes of metal finishing for the surfaces of my bronzes. In this small version Party Man's surface is a white earth pigment--not a true patina. A true patina is where a chemical transformation occurs in reaction with the underlying metal.




Carol Bruns
Party Man
Small Bronze with White Earth Patina
Carol Bruns
"Portrait of G #32"
Painting on Paper
Click to view entire series. This image gallery will take several seconds to load.



Carol BRUNS: My paintings deal with the same themes as the sculpture, but I'm not trying to draw sculpture. A series entitled "Portraits of a Psyche" represents aspects of a single psyche--portraying the internal rather than external.

Carol BRUNS: Another (earlier) paintings series includes words and images. In this group, the paper is covered with earth pigment. (I found a great source selling earth pigment from France and Italy. The golden red comes from Roussillon, France. ) Once the pigment-covered paper has dried, I paint by pouring enamel paint onto it. The words are stenciled on last.




Carol BRUNS: The drawings have themes of erotica, power and culture and how these three intertwine. I stencil my paintings with interesting, provocative word groups like: The Fed, Opulent, Boyfriend or Pretense, Economist, Hot. The people in the drawings take poses that are traditionally related to eroticism or to domination. I find the paintings and the similar ideas explored in the sculpture to be mutually stimulating.
"Noir", 2005
Mixed-media Painting, 75 x 125 inches

Carol BRUNS: "Noir" is an assemblage of hand-colored rag papers with glitter, minerals, collage, painting and drawing. View detail 1 and detail 2. Here I engage the psychic perspective of Hades. Lord of the underworld, Hades was invisible and embodied darkness and the unconscious. His lure for me is manifold: a reflection of the dying earth in winter, the mystery of dreams, the destructive power of the unconscious when it is ignored or denied, and also the treasure from this zone of consciousness. The resulting drawing aims to speak to this realm in its own language, one that is dark and rich, pulsing with primal energy--slow, deep, mysterious.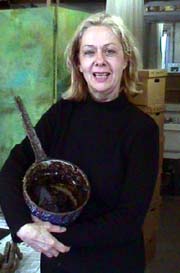 Carol Bruns in Her Studio
with Sculpting Wax













View Carol Bruns' works offered for sale:
Animal Dances Bronzes
Other Bronze Sculpture
Portrait of a Psyche Paintings
for sale in BIDDINGTON'S CONTEMPORARY ART GALLERY
Price Range: $1250-$9000.



Carol Bruns graduated in Fine Arts from New York University and subsequently studied at the Art Students League (New York) and La Grande Chaumiere (Paris). Bruns' bronze sculpture has been shown and commissioned throughout the US and abroad. Bruns' solo exhibitions have included Art Initiatives (NYC), d.u.m.b.o. arts center (NYC) and the Instituto Allende in San Miguel de Allende, Mexico. Bruns' small-scale pieces may be cast in larger sizes. Prices for the large castings are available upon request.
Carol Bruns
Distinction...
Painting on Paper
ABOUT THIS FEATURE
CREATIVE PROCESS at Biddington's is designed as a forum for watching art in the making. Usually, this process happens in the privacy of the artist's studio. At BIDDINGTON'S Contemporary Art Gallery & upmarket, online art & antiques auction--we find it interesting to witness the steps leading to the end product and to hear the artists speak about their work in the relaxed surroundings of their own studios.



Contact Biddington's

BIDDINGTON'S CREATIVE PROCESS Archives:
Sigmund Abeles Expressive Realist Painter
Javier Astorga Figurative Metal Sculpture
Nancy Azara Sculptor
Tova Beck-Friedman Sculptor & Mixed-Media Artist
Todd Bellanca Abstract Painter
Carol Bruns Bronze Figurative Sculptor
James Burnett Non-Objective Painter
Garrison Buxton Abstract Paintings on Paper
Cynthia Capriata Peruvian Painter & Printmaker
Catalina Chervin Argentine Surrealist Artist
Diane Churchill Expressionist Painter
John Clem Clarke Pop Artist
Lisa Dinhofer Illusionist Painter
Michael Eastman Faux-Primitive Painter
Eduardo Fausti Natural History Paintings
Lynne Frehm New York Abstract Painter
Betsey Garand Organic Abstract Painter & Fine Art Printmaker
Mary Teresa Giancoli Personal Documentary Photographer
Debora Gilbert-Ryan New Image Painter
Janet Goldner African-Influenced Steel Sculpture
Harry Gordon Monumental Sculpture
Marilyn Greenberg Narrative Abstract Painter
Patricia Hansen Portrait and Still Life Painter
Richard Heinrich Welded Steel Sculpture
Charles Hewitt Painter & Monotype Printmaker
Diane Holland Intermedia Collage Artist
GH Hovagimyan Pop/Conceptual Artist
LA Hughes Pop Artist
Frances Jetter Bronze Sculptor & Editorial Illustrator
Scott Kahn Fantasy Painter
Susan Kaprov Digital Printmaker and Abstract Painter
Babette Katz Narrative Printmaker and Book Artist
Richard Mock Abstract Painter & Linocut Printmaker
Maureen Mullarkey Figure Paintings
Bill Murphy Contemporary Realist Painter
Jim Napierala Abstract Painter
Frances Pellegrini New York City & Fashion Photographer
Joseph Reeder Cross Media Artist Paintings & Ceramics
Laura Shechter Contemporary Realist Painter
Annemarie Slipper Figurative Ceramic Sculpture
Gary Slipper Fantasy Painter
Margaret Speer Landscape & Travel Paintings
Serena Tallarigo Marble Sculptor
Rein Triefeldt Kinetic Sculpture
Vivian Tsao Painter of Light
Nancy Van Deren Contemporary Painter
Joan Berg Victor Drawings from Nature
Edward Walsh Figurative Sculpture in Bronze, Marble & Steel
Kate Wattson Contemporary Colorist Painter
Betty Winkler Organic Minimalist Painter &amp Printmaker


COPYRIGHT: Images and information within www.biddingtons.com are Copyright Biddington's, Inc. 1997-2005--except where superceded by individual copyrights of the artists.
Downloading or printing for online or print reproduction of any materials without specific written permission from Biddington's, Inc. is prohibited.





PEDIGREE & PROVENANCE--art words & terms defined. JAKE BIDDINGTON'S INVESTING--financial advice for art collectors.
BIDDINGTON'S BENTLEY--travel for the art & antiques connoisseur. MY ART--Art for kids.
BIDDINGTON'S--Home & Search