CHARLES HEWITT--Artworks for Sale. BIDDINGTON'S ART GALLERY--More Paintings and Sculpture.
Charles Hewitt
Painter & Printmaker
CREATIVE PROCESS visits the studio of artist
Charles Hewitt on the Bowery in lower Manhattan.




Charles Hewitt Veil 5
Post 9/11 Painting
Charcoal, Oil &amp Shellac on Raw Linen





Charles Hewitt: In much of my work, I speak in a narrative code. The series of paintings called "The French Beauty Suite" dates from 1998-1999. In these paintings, I use images from my past: The rope is an image from my Maine seacoast childhood. The thorn is an image from the Stations of the Cross and my religious upbringing. The black cherry--an image I find both endearing and durable--is a personal image of my mother. My storytelling in this work is motivated by a higher purpose than aesthetics.



Hewitt painting French Beauty I
Large Oil on Canvas (left)




Charles Hewitt: I like Haitian art and the way it uses some of the same religious shapes that I use--such as barbed wire as thorns.




Hewitt painting Grass Harp (right)
Small Oil on Canvas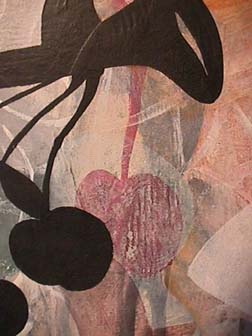 Surface detail of Grass Harp (right)


Charles Hewitt: These paintings begin as built-up layers-- veils--of shapes and forms simulating transparencies scraped and re- worked. They have a lot of memory. I add the crisp-edged black symbols to pull these romantic elements together and to complete the painting.





















Charles Hewitt: In some of my paintings, the wood-grained, printed paper takes the place of the layered background. I borrowed the technique from my own prints where I use a wood-textured background to add light and to give the prints snap. In the paintings, the woodgrain fills the space with a field of glowing color. Then, I paint over this background with the more sharply defined forms.
Eden II
Hewitt Woodblock Print





Charles Hewitt: I have always taken great pleasure in literature and poetry. This oil on canvas plus its companion acetate piece is called "Diver". Its subject is metamorphosis. I'm intrigued by transformation imagery especially relating to the sea. I own more than 250 copies of Moby Dick.




Hewitt image "Diver" acetate + small oil on canvas




Charles Hewitt: The small paintings and their acetate enlargements were a body of work in which I was exploring an idea about meaning and emotion in painting. First, I made a small painting on canvas. Then I would enlarge it via a copying process. The reason for blowing-up the painting was one of surprise. The brush strokes enlarge in unexpected ways. There is a decorative, faux quality to a blown-up brushstroke.




Hewitt painting Black Rooster
Small Oil on Canvas--8" x 10"
Hewitt's Black Rooster
Detail of Acetate Enlargement
Overall size 31" x 41"
Charles Hewitt: "Black Rooster" uses religious imagery, perhaps with a bit of irony. You know the source: "Before the cock crows twice, thou shalt deny me thrice."

Editors Note: Jesus' words to Peter in Mark 14:30 "And Jesus saith unto him, Verily I say unto thee, That this day, even in this night, before the cock crows twice, thou shalt deny me thrice."

Charles Hewitt: The enlarged piece becomes much less serious than the original painting. I found that to achieve emotion you need illusion.









Charles Hewitt's Bowery studio with
Post 9/11 Paintings
"Veils Series"


Charles Hewitt: These are the paintings I have been working on since the World Trade Center attacks. They have both the atmospheric feel of my seashore pieces and the sense of smoldering and ashes from the towers--a sight visible for months from my studio windows.












Charles Hewitt: The Veil Series series is on stretched but unprimed linen and painted with a mixture of materials: charcoal, paint &amp shellac combined with some of the stenciled forms that appear throughout my work. I like the way these paintings blend my own history and the current reality into images simultaneously dark and luminous.
Charles Hewitt
View Charles Hewitt's paintings and prints offered for sale in
BIDDINGTON'S Contemporary Art Gallery.
Price Range: $550-$6500


Charles Hewitt Selected Exhibitions:
Jim Kempner Fine Arts--2001, 1998, 1995 One Person (NYC)
Arden Gallery--1998, 1995 One Person (Boston)
Nancy Margolis Gallery--1997 One Person (NYC)
June Fitzpatrick Gallery--1997, 1995 One Person (Maine)
Vinalhaven Press--1997, 1986 Portland Museum of Art (Maine)
Ralph Green Gallery--1997, 1993 One Person (New Mexico)
Maine Coast Artists--1995, 1992
Figurative Expression Dartmouth College Gallery (NH)
M-13 Gallery, 1990, 1986, 1985 One Person (NYC)
International Print Biennale 1989, Ljublijiana, Yugoslavia
SUNY Gallery--1982, 1975 One Person (Binghampton, NY)
Brata Gallery--1972 One Person (NYC)

Charles Hewitt Selected Public Collections
Metropolitan Museum of Art (NYC)
Museum of Modern Art (NYC)
New York Public Library (NYC)
Brooklyn Museum (NYC)
Library of Congress (DC)
MIT, List Visual Arts Center (Cambridge, MA)
Farnsworth Museum (Rockland, Maine)
Hood Museum, Dartmouth College (NH)
Chase Manhattan Bank (NYC)
Prudential Insurance (NYC)
State University of New York (Binghampton, NY)

Charles Hewitt Grants & Awards:
New York State Council on the Arts, CAPS Grant--1974
New York Foundation for the Arts--2000, 1997
ABOUT THIS FEATURE
CREATIVE PROCESS at Biddington's is designed as a forum for watching art in the making. Usually, this process happens in the privacy of the artist's studio. At BIDDINGTON'S Contemporary Art Gallery & upmarket, online art & antiques auctions--we find it interesting to witness the steps leading to the end product and to hear the artists speak about their work in the relaxed surroundings of their own studios.

Email Biddington's with your comments.

BIDDINGTON'S CREATIVE PROCESS Archives:
Sigmund Abeles Expressive Realist Painter
Nancy Azara Sculptor
Todd Bellanca Abstract Painter
Carol Bruns Bronze Figurative Sculptor
James Burnett Non-Objective Painter
Cynthia Capriata Peruvian Painter & Printmaker
Catalina Chervin Argentine Surrealist Artist
Diane Churchill Expressionist Painter
John Clem Clarke Pop Artist
Lisa Dinhofer Illusionist Painter
Tom Duncan Narrative Polychrome Sculpture
Michael Eastman Faux-Primitive Painter
Lynne Frehm New York Abstract Painter
Betsey Garand Minimalist Painter & Fine Art Printmaker
Mary Teresa Giancoli Personal Documentary Photographer
Debora Gilbert-Ryan New Image Painter
Janet Goldner African-Influenced Steel Sculpture
Harry Gordon Monumental Sculpture
Marilyn Greenberg Narrative Abstract Painter
Patricia Hansen Portrait and Still Life Painter
Richard Heinrich Welded Steel Sculpture
Charles Hewitt Painter & Monotype Printmaker
Diane Holland Intermedia Collage Artist
GH Hovagimyan Pop/Conceptual Artist
LA Hughes Pop Artist
Frances Jetter Bronze Sculptor & Editorial Illustrator
Scott Kahn Fantasy Painter
Susan Kaprov Digital Printmaker and Abstract Painter
Babette Katz Narrative Printmaker and Book Artist
Richard Mock Abstract Painter & Linocut Printmaker
Maureen Mullarkey Figure Paintings
Bill Murphy Contemporary Realist Painter
Jim Napierala Abstract Painter
Lucille Nurkse Collage Artist and Painter
Frances Pellegrini New York City & Fashion Photographer
Joseph Reeder Cross Media Artist Paintings & Ceramics
Laura Shechter Contemporary Realist Painter
Annemarie Slipper Figurative Ceramic Sculpture
Gary Slipper Fantasy Painter
Margaret Speer Landscape & Travel Paintings
Serena Tallarigo Marble Sculptor
Rein Triefeldt Kinetic Sculpture
Vivian Tsao Painter of Light
Nancy Van Deren Contemporary Painter
Joan Berg Victor Drawings from Nature
Kate Wattson Contemporary Colorist Painter
Betty Winkler Organic Minimalist Painter &amp Printmaker


PEDIGREE & PROVENANCE--art words & terms defined. JAKE BIDDINGTON'S INVESTING--financial advice for art collectors.
BIDDINGTON'S BENTLEY--travel for the art & antiques connoisseur. MY ART--Art for kids.
BIDDINGTON'S--Home & Search