BIDDINGTON'S CONTEMPORARY ART GALLERY--Paintings & Sculpture
DEBORA GILBERT RYAN

CREATIVE PROCESS visits the Brooklyn studio of
New Image painter Debora Gilbert Ryan.






Encaustic paintings in Debora Gilbert Ryan's studio
Cancer Sticks (1981) and White Objects (1989 partial view)



Debora Gilbert Ryan: I became interested in encaustic as a medium in a techniques class at Wellesley where we were studying the painting techniques used in 2nd century Egyptian portraits. I was so intrigued that I ordered all the materials--the boxes of wax and the heating tools--but I didn't get around to working with it until several years later.
Debora Gilbert Ryan encaustic Self Portrait











Debora Gilbert Ryan: When I went to graduate school at Columbia, its program was essentially a school for Abstract Expressionism and Minimalism. My work, as early as high school, had been based on observation, so eliminating recognizable imagery was something of a strain for me. One night, I dreamt of a painting with a grid and triangle motif abstract enough to be acceptable within the prevailing aesthetic environment. I used my dream-painting concept to see myself successfully through the graduate program.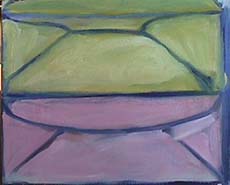 Debora Gilbert Ryan: I did this series of rather simple encaustic and oil paintings about that time--in the mid-1970's. People liked them a lot until I told them they were paintings of envelopes. In certain circles, any sort of representation was looked down upon.






Debora Gilbert Ryan: After graduate school, I took a job at Magnum Photos--a huge cooperative photo-archiving resource. There I was able to handle work by photographers such as Henri Cartier-Bresson as well as work by the best of the contemporary photo-journalists. I was still painting non-representationally at the time, but looking at these photos eventually had a profound effect on my work.
Debora Gilbert Ryan painting Hinge
Debora Gilbert Ryan: About that same time, around 1977, there was a big Jasper Johns retrospective. I found his images much more interesting than the abstract ones that I was working with. That show helped me to return to observation. I like to work with recognizable images because I like to communicate. People should be able to look at art without a requiring a special education for it.




Debora Gilbert Ryan: I moved away from using a geometric format gradually; at times, I began to appropriate images. I borrowed images from magazine and newspaper advertisements. This bulletproof vest was something I found in a survivalist magazine. I thought it made an good pairing with the Maidenform bra ad--both as forms of armor.













Charcoal drawing
Hot under the Collar
from DGR's Businessman series



Debora Gilbert Ryan From photo-reportage, I found images and manipulated them for use in my drawings and paintings.



Charcoal drawing The Media
Debora Gilbert Ryan: My working process involves gathering images from newspapers, ads, my own photos and observation. I may keep these images for years before I use them. Over time, I sift through them; certain things attract my attention and I use them in paintings. When I juxtapose images, their relationship may not be obvious but they are often dictated by humor, irony or political considerations. This decision-making process offers the potential of connecting with my subconscious and sometimes gives my art an affinity with surrealism.

Debora Gilbert Ryan: Although influenced by photography, my work is not particularly photographic. Stylistically, I have more of a connection with the painterly, sensual approach of someone like Wayne Thiebaud.




Debora Gilbert Ryan encaustic painting Table Top--1981
Debora Gilbert Ryan: Encaustic paintings are very heavy because they have thick layers of wax combined with the pigment. If encaustics are stored in a very cold place, the wax will sometimes crack, so I have to reburn it (reheat it) to smooth out the cracking. Otherwise, it is a very stable medium.

Debora Gilbert Ryan: I make my own encaustic paint from wax, pigment and resinous material such as damar varnish. I paint on a wooden support which I find protects the wax from cracking. While encaustic paint can be vulnerable to melting, flaking-off and cracking in extreme heat or cold (never leave an encaustic painting in the back seat of a car on a hot day), it is stable under most circumstances. Through centuries, it has proved to maintain color quality and resist pollution better than oil paint. I love the richness of its surface and the mystery of working with an ancient medium.


Debora Gilbert Ryan with painting Curtain of Grace
Debora Gilbert Ryan's works are offered for sale at Biddington's.
Price Range: $550-$8000
Deborah Gilbert Ryan encaustic painting The Swimmer--1988
Debora Gilbert Ryan has exhibited her work in shows in Chicago, Boston and New York. In 1994, Debora Gilbert Ryan co-produced the documentary "Eagle Scout: The Story of Henry Nicols" which was shown on HBO and received a Cable Ace Award and an Emmy nomination.
ABOUT THIS FEATURE
CREATIVE PROCESS at Biddington's is designed as a forum for watching art in the making. Usually, this process happens in the privacy of the artist's studio. At BIDDINGTON'S Contemporary Art Gallery, we find it interesting to witness the steps leading to the end product and to hear the artists speak about their work in the relaxed surroundings of their own studios.



Email Biddington's with your comments.

BIDDINGTON'S CREATIVE PROCESS Archives:
Sigmund Abeles Expressive Realist Painter
Javier Astorga Figurative Metal Sculpture
Nancy Azara Sculptor
Tova Beck-Friedman Sculptor & Mixed-Media Artist
Todd Bellanca Abstract Painter
Carol Bruns Bronze Figurative Sculptor
James Burnett Non-Objective Painter
Cynthia Capriata Peruvian Painter & Printmaker
Catalina Chervin Argentine Surrealist Artist
Diane Churchill Expressionist Painter
John Clem Clarke Pop Artist
Lisa Dinhofer Illusionist Painter
Michael Eastman Faux-Primitive Painter
Lynne Frehm New York Abstract Painter
Betsey Garand Minimalist Painter & Fine Art Printmaker
Mary Teresa Giancoli Personal Documentary Photographer
Debora Gilbert-Ryan New Image Painter
Janet Goldner African-Influenced Steel Sculpture
Harry Gordon Monumental Sculpture
Patricia Hansen Portrait and Still Life Painter
Richard Heinrich Welded Steel Sculpture
Charles Hewitt Painter & Monotype Printmaker
Diane Holland Intermedia Collage Artist
GH Hovagimyan Pop/Conceptual Artist
LA Hughes Pop Artist
Frances Jetter Bronze Sculptor & Editorial Illustrator
Scott Kahn Fantasy Painter
Susan Kaprov Digital Printmaker and Abstract Painter
Babette Katz Narrative Printmaker and Book Artist
Richard Mock Abstract Painter & Linocut Printmaker
Bill Murphy Contemporary Realist Painter
Jim Napierala Abstract Painter
Frances Pellegrini New York City & Fashion Photographer
Eolo Pons Argentine Master
Joseph Reeder Cross Media Artist Paintings & Ceramics
Laura Shechter Contemporary Realist Painter
Annemarie Slipper Figurative Ceramic Sculpture
Gary Slipper Fantasy Painter
Margaret Speer Landscape & Travel Paintings
Serena Tallarigo Marble Sculptor
Rein Triefeldt Kinetic Sculpture
Vivian Tsao Painter of Light
Nancy Van Deren Contemporary Painter
Joan Berg Victor Drawings from Nature
Edward Walsh Figurative Sculpture in Bronze, Marble & Steel
Kate Wattson Contemporary Colorist Painter
Betty Winkler Organic Minimalist Painter &amp Printmaker





COPYRIGHT: Images and information within www.biddingtons.com are Copyright Biddington's, Inc.--except where preceded by individual copyrights of the artists.
Downloading or printing for online or print reproduction of any materials without specific written permission from Biddington's, Inc. is prohibited.





PEDIGREE & PROVENANCE--art words & terms defined. JAKE BIDDINGTON'S INVESTING--financial advice for art collectors.
BIDDINGTON'S BENTLEY--travel for the art & antiques connoisseur. MY ART--Art for kids.