Annemarie SLIPPER Bronze Sculpture "Hands and Moon"
Item#: 503863
Price: $1500.00

Item's Dimensions: 8" high x 10" wide
Item's Year of Issue: 2002
Condition: Very Good
Materials: Bronze with greenish patina on ceramic base
Country of Origin: Mexico



PURCHASE THIS ITEM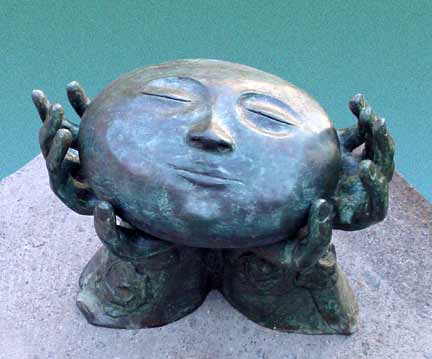 Description: "Hands and Moon" is a bronze by Annemarie Slipper--a Canadian-born sculptor who now lives in Mexico. Slipper's work tends toward the figurative often with appealing minor deities as her subjects. The two-part sculpture shows a serene moon cradled in startlingly life-like bronze hands. This bronze, from a limited edition of 24, has a greenish patina; it can be placed outdoors as a garden sculpture or on an interior table. Visit Annemarie Slipper's San Miguel de Allende studio. View more Annemarie Slipper sculpture.
Offered by: Biddington's Contemporary Art
E-mail questions to: webmaster@biddingtons.com

View more: SCULPTURE--Figurative
---
PURCHASE OPTIONS
1) Purchase this work online with VISA or Mastercard on a secure form.
2) Mail Biddington's your check or money order using the printable form provided at checkout.
To see applicable shipping fees, follow purchase arrow to Shopping Cart .
Prefer to speak with one of our staff?
3) Purchase this artwork by telephone:
Biddington's Mon-Fri 9-5 ET at 212 838-3572.