BIDDINGTON'S GALLERY & SHOPPING BIDDINGTON'S APPRAISALS & VALUATIONS

From Madrid to Andalusia
Car/Culture Touring with Jake Biddington
Editor's Note: Jake Biddington travels by automobile circling from Madrid, through Extremadura, across Andalusia and back to Madrid. The body of this report dates from July 2009. For additions and updates from July 2011, please refer to the end this article.


Paintings of the Sevillan Baroque School
in the Former Convent Church
Fine Arts Museum, Seville
Madrid: Reina Sofia and Prado Museums
Grand scale, world class museums are always a pleasure. For excellence and intelligence of exhibition design, the Reina Sofia is hard to beat. Each room is given a brief name such as "End of realism into cubism", then the basic identification tags within the rooms themselves note simply author, title and dates. It is the relationships of the pieces within the room that tell the story in a most articulate manner. The curators are audacious in placement: If a small painting has the intrinsic monumentality to hold a gigantic wall, there it hangs. As in other museums, audio guides are available, with words embellishing rather than replacing the essential visual structure of the exhibition.
Juan Gris (1887-1927)
Botella ante el Mar, circa 1925
Reina Sofia Museum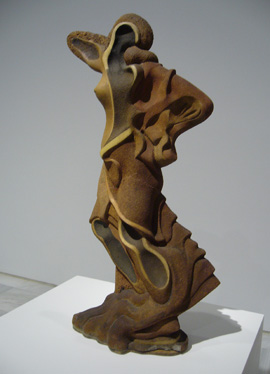 The Spanish Civil War looms large as a theme at the Reina Sofia. Not only Picasso's Guernica and its related drawings, but also on view are works by many other artists who made graphics and posters to support the anti-fascist cause. Though not thematically political, also exhibited is some of the sculptural work of a little known artist named Alberto Sánchez called simply Alberto, a Loyalist who fled to Moscow in 1938. Picasso considered him the finest sculptor of his time. It is satisfying to see how art, at last, transcends politics.
Alberto Sánchez (1895-1962)
"Dancer", 1927-1929
Reina Sofia Museum


Of course, as a new museum, the lighting in the Reina Sofia is vastly better than in the Prado. It makes one yearn to see the masterpieces of Velasquez, El Greco and Goya outside of the grey gloom. (That said, upon reviewing Velasquez" "Las Meninas" in the Prado, for the first time my eyes saw that only a scant half of the painting is given to the figures. The upper expanse of the composition is given oven to the room itself and, quite extraordinarily to the unadorned ceiling of the room in which the scene takes place.)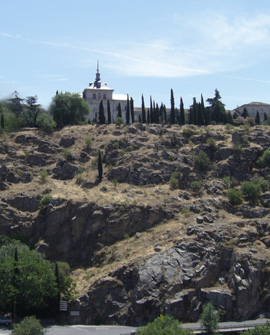 Toledo is an easy 25 minute train ride from Madrid's downtown Atocha Station, so making a pilgrimage to El Greco's most famous work requires no car time.
View of Toledo


The church of St. Tomé stands just above the Jewish section of Toledo; a few steps down the hill is El Greco's house. The parish priest hired his local painter to do the commission in homage to the legend of the 14th century Don Gonzalo Ruiz, Count of Orgaz. An austere and unprepossessing chapel houses the El Greco masterpiece. The painting is sophisticated, fresh and dynamic--united by a golden yellow that curves and spirals from the earthly clerics to the heavenly realm.







Cáceres: Art from Pre-history to the Present"
Extremadura became its own political entity just 20 years ago. Since that time public funding has flowed into the province, and the locals have employed those resources to great effect. Cáceres is a town that has the oldest and the newest: an historic walled city built on an formerly muslin site as well as a new non-invasive surgery center.


Garden with Pre-historic Sculpture
Museum at Cáceres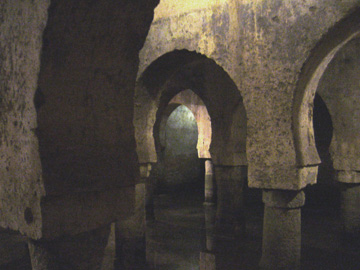 The museum of Cáceres atop the hill and within the old city walls beautifully houses artworks dating from Paleolithic to contemporary. So, early stone carvings, an El Greco "Christ" and contemporary art co-exist in the same beautifully recycled complex that also houses a Muslim era cistern. Additionally, the museum is part of a provincial system who receives rotating loans of artworks from the Prado to enrich and "freshen" their own holdings.
The Cistern, or Aljibe
Museum at Cáceres

Upon seeing a 20th century geometric abstraction exhibition next to pre-historic steles with spiral carvings, those given to remark: "There is no progress, only change", might wish to make the addendum, "and the change is minimal".












Merida: Roman Ruins Galore
The Romans had a convoluted idea of urban design that makes driving in small city like Merida an annoyance. However, seeing ruins of Roman temples, aqueducts and amphitheaters cheek-to-jowl with the ubiquitous building cranes of contemporary Spain is quite a treat.
Roman Temple to Diana
Merida


In July, the annual Merida theater season draws crowds of visitors to watch plays performed in the Roman theatre.

Roman Forum
Merida
Seville: Zurbaran, Great Cathedral and Archives
When the assets of monasteries and convents were confiscated by the Spanish state in 1840, many of the fine artworks that had graced their walls and chapels made their way to the converted convent that is now the Museum of Fine Arts in Seville. The result is a breathtaking collection of Zurburan, Ribera, Murillo and other Spanish masters. The museum building itself rests on a 13th century Mudejar site. In the 17th century the old building was demolished and the new convent designed and constructed; with its three courtyards and grand staircase, it stands as a fine and beautifully preserved example of Andalusian Mannerism.




Zurbaran "God the Father"
Museum of Fine Arts, Seville
.
The cathedral in Seville is among the world's largest with beautiful gold and silver decorations and ornamentation that would have cost thousands of South American lives. Its bell tower the Giralda was formerly the minaret of Seville's main mosque.
Interior of Seville Cathedral
Such fascinating--sometimes tragic--layers of history can further be explored across the square in the General Archive of the Indes. This archive houses many thousands of original documents including contracts, royal decrees, treaties and maps. A current (marvelous) show entitled "The Threads of Memory" chronicles the role of Spain in North America. Among its many interesting elements, the exhibition specifically documents how Spain provided substantive aid to the colonists' cause during our Revolutionary War. While truth may be hard to find, access to primary source documents helps to remove the taint of self-interest and total subjectivity from a reading of history.









Granada: Alahambra, Generalife and Free Tapas
Like an arid region Topkapi, the vast 14th century Moorish palace and fortress of the Alhambra commands the promontory overlooking Granada.
View from Below of the Alhambra at Dusk
Across a narrow ravine accessible by bridge from the Alhambra, the Generalife gardens with bubbling, babbling fountains give the illusion of a floral and fertile Eden. Abundantly flowing water omnipresent atop this bone-dry crag was an hydraulic marvel of its time that must have given new meaning to the concept of living like a king.


A Fountain Garden at the Generalife
Ubeda: World Heritage Site and Olive Oil
Delineating the topography from plain to rocky hillside, miles upon miles upon miles of olive trees are the primary feature of rural Andalusia. At the center of Spanish olive oil country stands the Renaissance town of Ubeda. After a stroll through the handsome upper town, an outdoor cafe on the Via Real provides the perfect perch for watching night fall as locals finish their Saturday errands or hurry off to an evening wedding, the women bedecked in dresses from thigh-length to floor-length.


View from Ubeda
with Olive Groves
Chinchon: Medieval near Modern
The town's 3-tiered medieval main plaza sometimes bull ring, sometimes playground, sometimes movie theatre, sometimes car park seems like it materialized from a Goya painting. That this place exists in the same century and less than an hour drive from Madrid's airport stretches the imagination making a charming end to our road trip.











Spain Tourism Tips
The highways in Spain are generally in good condition, fast and well-marked. Within the cities and in the small towns, the signs (when they exist) are nearly useless, traffic heavy and street parking non-existent. In these locations, the driver is well advised to find a centrally located parking garage and land the car as soon as possible.

In certain smaller towns, the Spanish government-operated Parador hotels which are renovated, historically important buildings give the traveler an experience of time and culture that is not to be missed.

Throughout the region, dining in "white tablecloth" restaurants is expensive, but grazing at tapas bars is great value--in budget, quality and the pleasure of rubbing elbows. A bocadillo de jamon, cured ham on a small baguette, costs around $1.50 combined with a caña, a small glass of beer, this snack can power several hours of museum touring. Since tapas can be a heavy on meat and carbohydrates, vegetarian restaurants--of which there are many good ones in Spain--offer a healthy and pleasurable culinary counterpoint. In Granada, with every drink order, a tapas comes free; the waiters keep track of how many rounds and a different tapas comes with each round of drinks. Or course, ordering that third drink marks you as a lush.

Regarding flamenco: Spain would be a much more enjoyable place if as many people who teach flamenco would also perform it. Why is every flamenco performance set as a theatre piece? Don't flamenco musicians "jam" anymore?


July 2011 Update
Wind and solar energy installations impressively mark the Spanish countryside. Near Seville, visible from the glorious terrace of the Carmona Parador, a science fiction-like solar tower glows so white-hot that you have to avert your eyes from it. Even though Spain might currently be suffering financial distress, at least the Spanish have something to show for their years of heavy spending.

The 2009 report on Spain still seems accurate with the notable exception of pricing data. Despite 20% unemployment, Spain is suffering spiraling inflation that is amplified for US visitors by the weak dollar/euro relationship. For example, diesel for my rental car ran $8 a gallon, making a fill-up clock in at roughly $100. A roll of candies that costs 50 cents in Buenos Aires and $1.00 in New York goes for $3.00 in Madrid. So, it pays to have strategies for circumventing some of the expense, otherwise the spending becomes a bore.

For road-trip lodging, the Paradores still represent value with each location unexpectedly magical in its own way. In the province of Extremadura the Parador in Zafra , a former ducal residence, evokes the powerful old Spain of castles and conquerers while the converted nunnery at Chinchon conveys cloistered quiet and peace.


Budget Alternatives--Madrid

Culture Vulture Category

Royal Academy of Fine Arts "San Fernando"
Alcala 13, Madrid
Metro stop: Sevilla (Line 2 Red)
http://rabasf.insde.es

If you are short of time or money and tired of crowds, this centrally located small museum is a fine alternative to standing in long lines at the Prado. With the exception of Velasquez, the collection boasts fine works by all the major Spanish painters. Standouts include Mengs portraits (including the recently discovered gem shown right) and two remarkable rooms devoted entirely to Goya.

Admission is 5 euros but FREE on Wednesdays from 9:00am to 3:00pm (note that guards start emptying the upper floors at 2:00pm.)

Wining & Grazing Category

At 2.50 to 5 euros, wines by the glass represent excellent quality and value. The traditional tapas bars still generally serve good nibbles, but the wine bar Vinoteca Barbechera prepares intensely flavorful tapas. Try their "tostados"--toppings spread onto hefty slices of crusty bread: e.g. brie with caramelized leeks, bacalao (salt cod) with piquillo peppers,or perhaps chicken curry with a cool, crisp glass of albariño from Galicia.

Vinoteca Barbechera
Chueca Location:
Calle de Gravina 6
Centro Location:
Plaza Santa Ana

If you are more focused on food than on drink, Diurno is the perfect spot for good, wholesome food--eat in or take away--at reasonable prices. Offerings include gazpacho, sandwiches and natilla, the creamy, delicious Spanish version of vanilla pudding. Of course this is Madrid, so wines, beers and mojitos are also available. The cafe's format is casual self-serve; the place is comfortable solo or with friends.

Diurno
Chueca
Calle de San Marcos 37
http://www.diurno.com/

Gay Pride Celebration

Volcanic ash hovering over South America extended my stay in Spain; so, once again, I hit Madrid on gay pride weekend. This annual July event grows and grows with a jolly party crush that is either totally entertaining or absolutely daunting depending on your attitude toward (mostly) buff, teeming throngs clutching plastic beer cups.












More South American Destinations:
Restaurant Guide to Buenos Aires
Mar del Plata, Argentina at the Beach
Touring Córdoba, Argentina
Argentina: Jujuy Province, Humahuaca and Tilcara
Northwest Argentina: Tucumán, Salta & Cafayate
Santiago & Valparaiso, Chile
Tigre, Argentina--Day Trip from Buenos Aires
San Antonio de Areco, Argentina--Weekend Trip from Buenos Aires
Colonia, Uruguay--Overnight Trip near Buenos Aires
Buenos Aires--Basic Guide
Travel Guide to Montevideo, Uruguay

Other Archived Destinations:
Touring Central and Andalusia Spain 2011
Touring Istanbul, Turkey
Visiting New York City 2007
Visiting New York City 2006 (Archive)
New Haven, Connecticut
Amsterdam
Cultural Touring along Spain's Costa del Sol
Touring in Lisbon
Touring in Milan
Touring in Antwerp
Touring in Barcelona
I-80 Park City to New York City
Tourism New York City 2003 Update
Tourism New York City 2002
Hudson, New York (Columbia County)
Tourism Rome 2002 Update
Hartford & Wilton, Connecticut
San Francisco Jackson Square
New Hampshire Route 1A
Morris County, New Jersey

ABOUT THIS FEATURE

Here at BIDDINGTON'S, our work is also our play. When we're not exhibiting and discussing art online, we're learning about wonderful objects in shops, at great shows and in museums--or simply exploring the world's fascinating cultural diversity. In this article, Jake Biddington offers tourist information and descriptions of this interesting destination.



Contact Jake Biddington about His Travels




COPYRIGHT: Images and information within www.biddingtons.com are Copyright Biddington's, Inc.--except where preceded by individual copyrights of the artists.
Downloading or printing for online or print reproduction of any materials without specific written permission from Biddington's, Inc. is prohibited.





PEDIGREE & PROVENANCE CREATIVE PROCESS
JAKE BIDDINGTON'S INVESTING