BIDDINGTON'S GALLERY & SHOPPING BIDDINGTON'S APPRAISALS & VALUATIONS

Antwerp: Flemish Art, Diamonds and Restaurants
Editor's Note: Frederick Fieldhouse Biddington refuses to venture abroad without the Bentley. So, Jake Biddington takes over as travel correspondent for this Antwerp issue.

Since the confidence crisis set in motion by the 2000 elections, surviving the stock market has been no picnic. With Easter weekend looming, I was noodling around the Net searching for a destination I could afford to visit. Both my circumstances and my nerves were severely strained.
Amsterdam beckoned with a reasonable airfare to a part of the world that I had somehow neglected in my dissolute student days. Having already punched "Submit" on a non-refundable ticket, I then discovered that Amsterdam had sent her siren call to others. After 2 hours of ferreting through Google in vain for an Amsterdam hotel room, I decided to look farther afield. My goal was to relax and to look at northern European painting. Antwerp seemed to have a lot of Rubens and vacant hotel rooms; Antwerp would do fine.

Jan van Goyen Painting "View of Dordrecht"
My education in northern landscape painting took an unexpected leap forward as the train pulled out of the station into the Dutch countryside. The view was nothing but sky and clouds with only the narrowest band of landscape to anchor it. Suddenly, the remarkably low horizon line in Flemish landscapes made perfect sense: Van Goyen (1596-1656) was merely painting what he saw.

The plane/train connection at Schipol airport is logical and seamless--therefore completely unexpected to a New Yorker. A scant three hours after touchdown in Amsterdam, I was walking out of my 4-star hotel ready to explore Antwerp's diamond district.


Detail of Chagall Painting "Exodus"
As on New York's 47th Street, the diamond industry in Antwerp includes a significant population of Hasidic Jews. The Hasidim in Antwerp also live in the neighborhood where they work. It's like stepping into a Chagall painting. The streets in Antwerp's diamond district are filled with people whose mode of dress and style of movement seem from a distant time: Groups of small boys decked in traditional black clothing hold hands and scramble, helter-skelter across streets. Young men in trios lope to business meetings while other men bicycle along wearing impressive headgear. These are not the familiar black, brimmed hats standard to traditional Hasidic dress. These hats are huge discs, like the ground floor of a major wedding cake, made of sumptuous combinations of furs--a startling, memorable form to see crowning a guys head.


Diamond Museum
My fascination with gemstones began when I was a kid. Occasionally, my father would let me tag along on his social rounds which always included a visit to his jeweler--a nice guy who did his own buying in Antwerp and who would let me peer through his loop to hunt for inclusions in less-than-perfect stones. But a stroll through the history and mystery of the diamond trade was not to be found at the Diamond Museum (Lange Herentalsestraat 31-33). Though the museum does include a diamond cutter at his work, its real purpose is that of an info-mercial for the Antwerp Brilliant Cut. This is a complicated, 64-facet cutting technique designed to optimize refraction; the resulting stone scintillates vibrantly. Personally, I think there are as many beautiful cuts as there are attractive body types, so this "one perfect way" seems a tad simplistic.

Still the visit was interesting, if cautionary, for investors in diamonds. One informative section noted these statistics: Of all the diamonds mined in the world 70% are considered industrial quality, 28% jewelry quality and only 2% investment quality. This may come as a surprise to those who assume that diamond jewelry is, by definition, investment grade. Most of the world's diamonds still come from South Africa (and the states formerly within South Africa that the de Beers monopoly are trying to keep under control), but an unknown and increasing percentage are being exported from Russia and elsewhere. The summary point is that the diamond business is an industry in flux--a creature of changing geopolitics. The Antwerp diamond merchants appear to be betting their continuing franchise on a superior knowledge of the technology of stone cutting .


Royal Museum of Fine Arts Antwerp
But I had come to Belgium to chill and to look at Flemish paintings--not to fret over the diamond market--so, I walked out of the showroom empty-handed and headed for the Royal Museum of Fine Arts (Koninklijk Museum voor Schone Kunsten, Plaatsnijderstraat, 2). The museum's permanent collection offers a solid sampling of Flemish painting from the 15th through the 17th centuries. Enough information is at hand to help the visitor understand key issues: 1) the regional propensity for a naive realism (with an interest in depicting landscape), 2) the arrival of sophisticated (Italian and French) ideas about light & space and 3) the impact on painting of a prosperous merchant class with its deep and abiding interest in materialism.

The central Rubens room houses two paintings I particularly admire: The first is a small altarpiece entitled "Doubting Thomas" with a beautifully structured composition of four heads in the central panel and two fine donor portraits on the sides. The burgher in the left panel wears a mink-trimmed cloak and an "it's-good-being-rich" expression; on the other side of the tryptich his flush-faced wife looks as though she'd be more comfortable on a milking stool than posing in a starched, white collar.



My other favorite is a "Holy Trinity" with God the Father presenting the body of Christ whose dirty foot projecting forward pulls us into the painting and makes a poignant bridge between the mundane and the celestial. I prefer Rubens' smaller pieces showing his own skilled hand and observant eye versus the huge pieces that too often include muddy renderings by his studio assistants.

Frans Snyders (Snijders) Still Life Painting
Realism is one of my guilty pleasures. So, a Frans Snyders' (1579-1657) dead animal painting, (still life with freshly killed game casually sprawled across an elegantly laid table) always fascinates me with its virtuoso representation of surface and texture. Skipping from the Golden Age to the 19th century, portraits by Henry Van de Velde and Theo Van Rysselberghe are reminders that Pointillism wasn't always so static as Seurat's work sometimes suggests.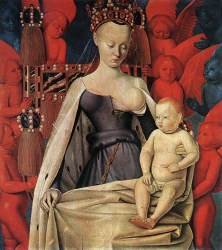 But the collection also throws some major curves. One is James Ensor (1860-1949) who starts as a painter of post-impressionist interiors then evolves into a hot-color surreal nightmare painter. If Ensor had started painting these troubling images 20 years later (during World War I), they wouldn't surprise. But appearing in the late 1890's, Ensor's vision is disturbingly prophetic.

Jean Fouquet Painting "Madonna and Child" in Antwerp's Royal Museum
The other notable anomaly in the Royal Museum collection is a dazzling Madonna and Child painted in red, pearl-white and blue by Jean Fouquet (1415-1480) a court painter to Charles VII of France. Fouquet is thought to be one of the first artists to paint on canvas. (The stunning madonna model was Agnes Sorel, the king's mistress.) This painting has an odd psychological force. The facial expressions of the surrounding seraphim are a bit too direct, the color contrast too pronounced and the space too compressed for the aggressively geometric forms. This strange Fouquet seems misplaced in time.




Rubens' "Descent from the Cross" in Antwerp Cathedral
Additional venues for viewing Rubens and Flemish paintings are: St. Paul's Church, Rockox House and Rubens' House (a re-construction of the original). In the main cathedral, the huge Rubens altarpieces (Elevation and Descent of the Cross) are must-dos.


Dining and Drink
People tend to think of Belgian food as moules, frites and waffles. While all of those are readily available--and very tasty, what is significantly more interesting on the Antwerp culinary front is its fine classic French cooking. By this I mean complex, reduced sauces that take a day in the making--the sort of cuisine no hot Parisian chef would even consider producing. Add to the classic sauces superb base ingredients like tender white asparagus and North Sea fish and crustaceans, and you're in for a serious dinner. A map consultation reveals Antwerp's surprising proximity to Burgundy. So, Antwerpen wine lists include white and red Burgundies at accessible prices. Because of the low EEC booze taxes, other scarce, alcohol-based pleasures are also available: aperitifs such as pineau des charantes and regional white alcohols such as marc de Bourgogne and marc de gewurztraminer and, of course, the local beers. My favorites stops on this trip were restaurants featuring soul-satisfying haute cuisine, great service and space between tables: De Manie (Wijngardstraat near St. Carolus) and Preud'Homme (Suikerrui). It doesn't even occur to these restauranteurs to try to turn a table; it's yours for the evening.


Browsing
The antique shops along the Hoogstraat looked as though they could serve-up an acceptable 18th or 19th century seascape at a do-business price. And a gallery along Wijngardstraat offered an art nouveau bronze that almost made me regret I was feeling the pinch. But my acquisitive juices just weren't flowing. Still haunted by that initial hat image and seeking further information, I stopped into a Hoedensalon (hat shop--Oude Koornmarkt, 62) run by designer and hatmaker Caroline de Roy van Zuydewijn. The charming and saavy Ms.de Roy van Zuydwijn had no knowledge of the genesis of the Hasidic discs, but she did explain some hatmaking basics and her own clever marketing approach: her shop offers hat teas for women to introduce them to styles and suitable shapes. (She sells mens' hats but makes none herself.)

Apparently, Antwerp is an up-and-coming fashion and design center; a museum of fashion is currently under construction. Rumor has it that there are trendy, crowded restaurants in the renovated docks area near the Museum of Contemporary Art. But as a scene-weary New Yorker, what I appreciate about Antwerp are its slightly retro civility and creature comforts which provide welcome respite from the day-to-day pummeling of the financial markets.


New York Addendum
Happily, late April appears to have brought a better tone to the equity markets. Having just passed through Delft and interested in flexing my new-found understanding of northern European light, I squeezed in a visit to the Vermeer exhibition (on view at the Metropolitan Museum). Perhaps I went looking for a significant insight into Vermeer; none occurred. Compared to those working around him (and some--such as Pieter de Hooch--are truly wonderful), Vermeer's talent seems to rest in his control of light and atmosphere to unify a composition making it appear natural and seamless--and therefore completely unexpected.





More Art & Antiques Destinations with Jake Biddington:
Art Tourism New York City 2005: Christo's Gates
Art Museums, Neighborhoods & Dining in Buenos Aires
Art and Touring along Italy's Amalfi Coast
Art Museums & Restaurants in Amsterdam
Cultural Touring along Spain's Costa del Sol
Art Touring in Lisbon
Art Touring in Milan
Art Touring in Antwerp
Art Touring in Barcelona
I-80 Park City to New York City Art & Antiques
Art Tourism New York City 2003 (Archive)
Art Tourism New York City 2002 (Archive)
Art & Antiques in Hudson, New York (Columbia County)
Art & Restaurants in Rome 2002 Update
Hartford & Wilton, Connecticut
San Francisco Jackson Square
New Hampshire Route 1A
Morris County, New Jersey

Jake Biddington's 2005 Art Collecting Series:
Art Appraisals and Valautions
Investment Grade Contempory Art

Jake Biddington Art Investing (Archives):
PPP Test: Judging Quality in Contemporary Art
Art, Time and Technology
American vs. European Paintings
Jake Biddington's Art as Entertainment
Jake Biddington's Vetted Antiques & Art Shows
Jake Biddington's Patent Numbers as a Dating Tool
Jake Biddington's Hard Assets as Portfolio Diversification
Jake Biddington's Buying Fine Jewelry at Auction
Jake Biddington's Long Term Investing
Jake Biddington's Short-Term Investing
Jake Biddington's The Craft of Art


ABOUT THIS FEATURE

Here at BIDDINGTON'S, our work is also our play. When we're not exhibiting and discussing art & antiques online, we're learning about wonderful objects in shops, at great shows and in museums all over the world.

In this article, Jake Biddington offers suggestions and descriptions of interesting art tourism destinations. Some of these venues are always in open; others revolve around special or seasonal events. These are art travel excursions we at BIDDINGTON'S--upmarket, online art & antiques auctions and Contemporary Art Gallery--have enjoyed making. We hope you'll like them, too.



Contact Jake Biddington about His Travels




COPYRIGHT: Images and information within www.biddingtons.com are Copyright Biddington's, Inc. 1997-2005--except where superceded by individual copyrights of the artists.
Downloading or printing for online or print reproduction of any materials without specific written permission from Biddington's, Inc. is prohibited.





PEDIGREE & PROVENANCE--art words & terms defined. CREATIVE PROCESS--artists' studio visits.
JAKE BIDDINGTON'S INVESTING--financial advice on art & antiques collecting. MY ART--art for kids.