BIDDINGTON'S SHOPPING & GALLERY BIDDINGTON'S APPRAISALS & VALUATIONS

Touring Northern Argentina
Jujuy Province: Humahuaca and Tilcara
Editor's Note: Jake Biddington takes over for this South American installment of The Bentley--published in September 2007.
Humahuaca Gorge from Jujuy to Tilcara to Humahuaca
It has happened to me before: knowing a place through art before I encountered it in person. Upon arriving there, I was pleased to find that the nature had gotten it right: the place did, indeed, look and feel like the paintings of it.


Enrique Policastro
"Purmamarca"
So it was that I experienced the Humahuaca Gorge first through the paintings and drawings of Enrique Policastro (1898-1971) and Eolo Pons (b.1914) and then firsthand. This made the slow bus trip from San Salvador de Jujuy to Tilcara and finally to Humahuaca seem a sentimental journey. From paintings, I immediately recognized the vividly striped hills of Purmamarca and tiny village of Maimara with its inviting hillside cemetery.


Eolo Pons
"Landscape in the Quebrada de Humahuaca"
In drawings, Pons had depicted the small ranches with their modest tin-roofed houses and exclamation points of poplar trees with affection as well as accuracy. So, when I saw them, they looked not only familiar but also welcoming--as if the inhabitants were beloved friends. This ability to look beneath the surface--to see more, to understand more and to convey this knowledge to the viewer--makes the artist a great tour guide through lands well beyond just the physical one.


Eolo Pons
"Maimara Cemetery"
Humahuaca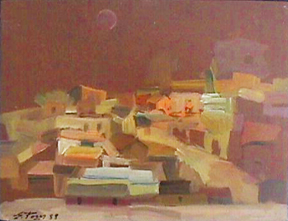 North in Jujuy province near the Bolivian border, the village of Humahuaca seems a natural home to its cholla (indigenous) population. In this hardscrabble place, itinerate vendors sell sunhats to shelter tourists against the high-altitude sun and children offer to recite a coupla (short poem) by Fortunato Ramos in return for a small fee. But when the young woman balancing a baby on her hip approached with a pitch, she offered not trinkets but instead an invitation to enter the museum of sculptor Nicasio Fernandez Mar.

Eolo Pons
"Humahuaca Evening"


It was the messenger--not the message--that came as a surprise: In the 1930's-60's, the northern provinces of Jujuy and Salta attracted sculptors, painters, writers and musicians from all over Argentina. Fed by study grants and government encouragement as well as the enticement of the dazzling multicolor landscape, a substantial artistic and intellectual colony thrived in the far north for a time. With nostalgia, Nestor Groppa a poet and newspaper essayist from Jujuy recalls among its members whom he numbered at more than 100: "Raúl Galan (poet), Medardo Pantoja (painter), Francisco Ramoneda (painter), Nicasio Fernandez Mar (sculptor), Jorge Cafrune (singer), Jorge Gnecco (painter), Atahualpa Yupanqui (novelist & musician), Rodolfo Kusch (essayist & philospher), Eolo Pons (painter)..."
Néstor Groppa, "Annuarios del Tiempo", 35 Carte Postale, Sunday, October 1, 1980.

The names themselves, a mix of indigenous, colonial Spanish, 19th century emigrant Catalan and Italian, and 20th century emigrant northern European, show what rich diversity made up the creative stew in Jujuy province circa 1960.


Nicasio Fernandez Mar Museum
Knowing the cultural heritage in this region of Argentina, Nicasio Fernandez Mar's (1916 -1979) sculpture should not have come as such a surprise. Still, that someone who could make small terra cotta sketches seem monumental in scale and whose "Lot's Wife" shares its timeless magic with the loveliest of Hellenistic figures, that such a sculptor should have wanted his museum in this remote place was, indeed, startling. But Argentina is a surprising country with an art world driven by its own particular forces. So, being good cultural tourists, we simply enjoyed the more than 100 works on exhibit which also included medium-scale female figures carved from palo verde wood as well as preparatory drawings and bronze bas-relief studies for Nicasio Fernandez Mar's large-scale national monuments.



Ramoneda Museum
Some days are blessed by the art gods; afternoon in Humahuaca found us on the doorstep of another unexpected treasure: the Ramoneda Museum. Funded by a study grant from the Argentine government, the painter Francisco Ramoneda (1905-1977) first arrived in Humahuaca from Buenos Aires in 1933; by 1936 he had settled and founded his studio museum there. Featured are portrait works for which he is much admired as well as landscapes and some still life paintings in the Spanish bodegon tradition. Francisco Ramoneda's most important body of work chronicles northern life: its stark beauty and hardship and the immutable stoicism of its people.


Francisco Ramoneda
"Arriero"


This subject matter has few adherents among the art crowd in Buenos Aires, a group that assiduously ignores its Andean heritage and prefers to view itself as a lost tribe of Europe. To an outsider, this seems a shame because the north has a centuries-old aesthetic sensibility and spiritual depth from which Porteño artists might benefit. Those Argentine artists and writers who went to the north in the mid-20th century equipped with a knowledge of European art also drew understanding from this culturally rich region, and the power of their work reflects it.

The Studio Museum Ramoneda is located at 214 Salta Street (near Santa Fe). Prof. Luis Ramoneda, the artist's son and a fine painter, is director of the museum.


Regional Folklore Museum
Founded in 1969, this museum is devoted to the patrimony of the Humahuaca region (its gorge, puna and valleys) exhibiting natural items, such as medicinal herbs as well as objects such as those related to the carnival celebration in Humahuaca. Both the Regional Folk Museum and the Nicasio Fernandez Mar Museum are on Buenos Aires Street.


Tilcara
"En Tilcara venden causas
En Uquía aclaraciones
En el pueblo de Humahuaca,
Cuentos y averiguaciones."
Verse of Unknown Origin

This couplet refers to the village of Tilcara as a place where "causes are sold", (with Uquía a place of "enlightenment" and Humahuaca "a town of storytellers".) Because the nexus of Spanish power was Alto Peru with its mineral wealth, the province now called Jujuy was the scene of many battles for Argentina's independence. On the main square in Tilcara is a building where the remains of General Juan Lavalle, one of the heroes of independence, were on view on a long odyssey that prefigured the extended travels of other Argentine political corpses.

Somewhat reminiscent of Taos (New Mexico), modern day Tilcara provides nearly all a tourist could desire: dramatic landscape, access by motor, horse or foot into the mountains and puna, a selection of comfortable small hotels, restaurants, art museums, shopping for regional goods and even a modest night life. Conversations with nearly anyone in town, from waiters in peñas to shop people, bear witness to the continuing idealism, and contained militancy, of the inhabitants.

In this hillside village, the sun and moon make their presence known. Because of the high altitude, days are warm to hot with nights cool to frigid--and crystalline clear. Guided nighttime horseback rides are available. Or, you can just walk Tilcara's silent, stone streets and feel the blanket of stars.


Tilcara Museums
Hugo Irureta Museum of Fine Arts
Founded in 1987, this private museum, large in scale for the region, exhibits works by many outstanding Argentine artists of the 20th century including: Carpani, Centurion, Chab, Fernandez Mar, Gnecco, Lozza, Macchi, Noe, Pantoja, Pons, Presas and Ramoneda. (Corner of Belgrano and Bolivar Streets).

Medardo Pantoja Foundation and Museum
One of the first Argentine painters of indigenous heritage to earn a major reputation, Medardo Pantoja (1906-1976) was known in his lifetime both as a gifted painter and a fine teacher. He taught at the secondary and university levels in Tilcara and Tucumán and was founder and director of Provincial School of Fine Arts in Jujuy. Part of his home has been converted into a museum of his works. (560 Alverro Street).


Medardo Pantoja
"Mother and Child"


National Museum of Painting "Jose Antonio Terry"
This museum houses works by portraitist and landscape painter Jose Antonio Terry as well as works by other artists who lived or worked in Jujuy. Also, it conducts special exhibitions of contemporary painting, sculpture and photographs by artists from throughout Argentina. (459 Rivadavia Street).



Tilcara Shopping
Puisca
This shop sells exceptionally well-designed artisanal woven and knitted clothing made from llama, alpaca and sheep yarns dyed with natural plant materials such as nut shells, tree leaves, berries and onion skins. It is representative of a sensibility in this region to preserving and developing the environmental and cultural heritage. (Padilla Street).

Artisans' Market
Open daily in the town square, the market sells a broad variety of woven and knitted clothing and rugs, made locally as well as items brought from Bolivia. Leather goods, cactus wood items, terra cotta and decorative mixed metal pieces (called "alpaca") are also for sale. One vendor exhibits works by indigenous crafters from Chaco including carvings with mixed woods including palo verde and well as chaguar items, goods woven from a thorny bromeliad plant of the central Chaco.


Chaguar Weaving
Puma Paw Design


Tilcara Hotels
Viento del Norte
Opened in July 2007, this contemporary, moderate size hotel includes a substantial pool and exterior lounging area as well as a large public room with TV and Internet access. (Jujuy Street between Rivadavia and Bolivar).

Rincon del Fuego
This boutique hotel features rooms constructed in the traditional Jujuyan style featuring local materials. Dinner is available in the hotel by reservation. TV in rooms. Internet access in public area. (Ambrodetti Street near Padilla).







More South American Destinations:
Restaurant Guide to Buenos Aires--2007
Northwest Argentina: Tucumán, Salta & Cafayate
Santiago & Valparaiso, Chile
Tigre, Argentina--Day Trip from Buenos Aires
San Antonio de Areco, Argentina--Weekend Trip from Buenos Aires
Colonia, Uruguay--Overnight Trip near Buenos Aires
Buenos Aires--Basic Guide
Travel Guide to Montevideo, Uruguay

Other Archived Destinations:
Visiting New York City 2007
Visiting New York City 2006 (Archive)
New Haven, Connecticut
Amsterdam
Cultural Touring along Spain's Costa del Sol
Touring in Lisbon
Touring in Milan
Touring in Antwerp
Touring in Barcelona
I-80 Park City to New York City
Tourism New York City 2003 Update
Tourism New York City 2002
Hudson, New York (Columbia County)
Tourism Rome 2002 Update
Hartford & Wilton, Connecticut
San Francisco Jackson Square
New Hampshire Route 1A
Morris County, New Jersey

ABOUT THIS FEATURE

Here at BIDDINGTON'S, our work is also our play. When we're not exhibiting and discussing art online, we're learning about wonderful objects in shops, at great shows and in museums--or simply exploring the world's fascinating cultural diversity. In this article, Jake Biddington offers tourist information and descriptions of this interesting destination.



Contact Jake Biddington about His Travels




COPYRIGHT: Images and information within www.biddingtons.com are Copyright Biddington's, Inc.--except where preceded by individual copyrights of the artists.
Downloading or printing for online or print reproduction of any materials without specific written permission from Biddington's, Inc. is prohibited.





PEDIGREE & PROVENANCE CREATIVE PROCESS
JAKE BIDDINGTON'S INVESTING