BIDDINGTON'S SHOPPING & GALLERY BIDDINGTON'S APPRAISALS & VALUATIONS

Traveling to Buenos Aires:
Neighborhoods, Restaurants, Politics & Art
Editor's Note: Jake Biddington takes over for this February 2004 South American installment of The Bentley . (Updated: November 2004.)

Even though the political and economic situations were rumored to have improved, I was nonetheless hesitant to make the long flight down to Buenos Aires. Was it yet another Latin American capital with gun-toting soldiers and pervasive poverty? Had consistently misguided IMF policies done for Argentina what they had done for Indonesia? In the end, it was not politics but the centigrade spread, -7C in New York City to +26C in Buenos Aires, that bought the ticket.

Balcony View
Palermo Hollywood Neighborhood
Buenos Aires, Argentina
As Porteños, (the natives of Buenos Aires), will tell you with guarded optimism, Nestor Kirchner's regime seems to be functioning effectively. The stock exchange, housed in a grand old downtown building, trades for only a couple of hours each afternoon, but its Merval index is up more than 100% year-over-year. Versus world prices, real estate seems cheap, but there are as many "Sold" as for "For Sale" signs. Poverty is present--hardly surprising at 16% unemployment--but it is not rampant, and there appears to be hope for job growth in the improving economy. Buenos Aires is not some overgrown village awash with hoards of illiterate, displaced peasants. Boasting free university on a merit system, Buenos Aires is a beautiful & cosmopolitan city with established & new cultural institutions, thriving & stylish neighborhoods and a population of attractive & educated people, truly The Paris of South America.




Tango
Americans like to imagine Buenos Aires as a mysterious city of darkened streets where everyone moves to the wrenching sound of the Bandoneon and the compelling rhythm of two/four time. In fact, relatively few contemporary Argentines dance their traditional dance. Having spent 50 years in obscurity, the tango is back in vogue with a certain cadre of young Porteños. This is not the dancing of aging roués & smoky nightclubs, but of hard-bodies attending floating milongas in public halls and modest confiterias. This dancesport demands significant skill and focus.

Carol Bruns
"Tango", Bronze Sculpture
For an intro to this amazing tango sub-culture call one of the tour agencies. As an alternative to seeing a slick, theatrical "tango spectaculo", book a private lesson, dinner and guide to a milonga (this comes as a package). Learning tango in one evening is as likely as learning Spanish in one lesson, but private instruction gives some sense of the technique involved. The milonga scene provides entrée to an interesting--if obsessed--local crowd. In "after-hours" tango spots, instead of stopping at a civilized hour like 6 am, milongueros breakfast then dance all day.


Golf
In the late 19th century, British engineers came to Argentina to design the railroad system. With them they brought their fondness for Tudor style half-timbered houses and the game of golf. With at least 25 courses within an easy drive from downtown, Buenos Aires justly considers itself the epicenter of golf in South America. In fact, the Lagos de Palermo Golf Club is located adjacent to the Polo Field within in the city itself. In greater Buenos Aires, greens fees vary, but all are well below the fees for comparably challenging courses in the US or Europe.


Argentine Wines & Food
With New World wines coming into their own, deserved attention is being paid to Argentine and Chilean reds. Not only are the malbec and cabernet wines from the region of Mendoza (on the eastern slope of the Andes) full-bodied and lushly flavorful, but the little-known whites are worth drinking, too. Argentine winemakers exercise a lighter touch with new oak than do Californian or Australian vintners. Argentine chardonnays have considerable body and a style akin to a modest white Burgundy; the more floral viogniers are worth sampling as well. For sipping at an outdoor cafe, the sauvignon/semillon blends possess balance and elegance.


This being Argentina, steak is omnipresent. Argentina's range-fed beef is firmer and infinitely more flavorful than the feedlot-grown, corn syrup-fed mush we eat in the US. The Mendozan reds accompany this succulent meat wonderfully. Even in the most modest parillas, quality beef is the standard. To enjoy the full steakhouse experience at a third the price of New York City, treat yourself to a grand, expense-account restaurant such as Cabana des Lilas.





Notes on Buying Real Estate in Buenos Aires
Property prices in Buenos Aires are attractively low. If you're thinking of buying a house or apartment in Buenos Aires, do extensive research first into the buying process--which is very different from buying in the US. If you are not buying directly from the owner, make sure to do specific research into background of the realtor. Realtors function by neighborhood; they tend to be very small operations compared to the US. The buyer's part of the realtor's commission should be NO more than 3% of the transaction value. Even though prices are quoted and payments are made in dollars, to buy "en blanco" (with complete transparency), two exchange transactions are required: $$ to pesos and pesos back into $$. So the currency fees are substantial. (1-2% of the value of the transaction.) Before entering a bid on a property, it is best to engage local legal help, an escribano, for advice. Choose an escribano not associated with the realtor. The escribano is a very important player because he performs the title search and checks for liens on the property. As a rule of thumb, assume that commissions and fees will add an extra 10-15% to the purchase price. If this seems excessively complex, consider one of the myriad short-term apartment rentals available in BA.


Art in Argentina
Argentine art exhibits neither the bold textured abstraction nor the ancient imagery typical of Mexican and Central American art. Instead, it is the art of a temperate clime rooted in the culture of European 19th and early 20th century emigrés--people for whom political ideas and psychological insights were of profound importance. Argentine art has a tendency to visual intricacy and reveals a profound engagement in human concerns.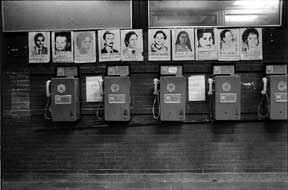 Proa
The old dockside Italian neighborhood of steel shacks, sidewalk tango and serious soccer called La Boca is the unlikely home to Fundación Proa an important new contemporary art venue . Escenas de los 80s (Scenes from the 80's), on view February 2004 at Proa included images from that turbulent and promising decade in recent Argentine history.
Argentine photographer
Silvio Zuccheri
"Carteles de desaparecidos en la Facultad de Arquitectura, UBA "
( Poster of the Disappeared in the Architecture Department, UBA)
B/W Photograph
Politics are never far away in Argentina. During the 1970's, thousands of people went missing--abducted and executed--under the dictatorial regime. (Recent newspaper articles relate accounts of matching adults who were babies born of "disappeared" women back to their families through the use of DNA samples.) During the 1980's, after the fall of the military dictatorship, a visual record of that period came to light. This Silvio Zuccheri photograph documents a wall of "missing" posters. Even now, on Tuesdays around the Plaza de Mayo, you can watch the procession of the mothers of "the disappeared" who have been keeping their vigil of memory for 26 years. Other poignant reminders of the turbulent 80's appear in this exhibition: images of defeated Argentine soldiers--with no coats against the freezing cold--making their way back from the disastrous war in the Malvinas--(the Falklands to Maggie Thatcher). Also on view in February 2004 at Proa were works by well-known Argentine contemporary painter Guillermo Kuitca and his protegés.





Malba
The 20th century and contemporary Latin American art collection of Eduardo F. Costantini is housed in a fabulous new building located along museum mile in the upmarket Palermo Chico neighborhood. The Malba includes more than 200 works by important artists from all over Central and South America including Mexican artists Frida Kahlo & Diego Rivera, Argentine artists Antonio Berni, Guillermo Kuitca & Jorge de la Vega, Cuban artist Wifredo Lam, Chilean artist Roberto Matta, Uruguayan artists Joaquín Torres-García & Pedro Figari, Brazilian artists Emiliano Di Cavalcanti, Tarsila do Amaral, Lygia Clark & Helio Oiticica. It also shows works by not yet famous contemporary artists.




Uruguayan Constructivist Painter
Joaquín Torres-García
"Composición simétrica universal en blanco y negro", 1931
Oil on Canvas
Bellas Artes
As might be expected from a state museum, the Museo Nacional de Bellas Artes presents a nice chronological overview of 19th and 20th century Argentine painting. Being introduced to a regional artist with the command of line like historical painter and portraitist Prilidiano Pueyrredón (1823-1870) or a wonderful eye for light and color like landscape painter Fernando Fader (1882-1935) is one of the joys of travel to distant museums.



Argentine Artist
Fernando Fader
"Fin de Invierno", 1926
Oil on Canvas
Pettoruti: Bellas Artes Special Exhibition October, 2004-January 2005
The Emilio Pettoruti (1892-1971) retrospective at the Bellas Artes begins when the young painter from La Plata wins a grant to study in Europe. The exhibition includes work from his early days (1913-1924) painting in Italy where he was absorbing influences by earlier artists such as Cezanne (1839-1906) and as well as inspired by his contemporaries the Futurist painter and sculptor Giancomo Balla (1971-1958) and the Spanish Cubist painter Juan Gris (1887-1927).
Emilio Pettoruti
"El Timbre", 1938
Oil on Canvas, Museo Nacional de Bellas Artes
Never an innovator, Pettoruti returns home to Argentina and reworks and reflects themes and ideas he learned while in Europe. Arguably the best painting in the show, a work entitled "El Timbre" combines a Cubist still life structure with a realist image of a hotel bell. This disjunct gives a frisson of tension to the painting--a thrill notably absent from Pettoruti's other works. Generally, Pettoruti likes a centralized oval composition based on a logical and analytical--if diluted--Cubist principles. Always competent, Pettoruti's abstracts from the 1950's and 1960's represent color theory concepts in a decorative way. Pettoruti served a useful role as a disseminator of European artistic trends popularizing them in a country whose artists had been mostly absorbed in carrying on the traditions of an earlier century.
Museo Xul Solar Fundacion Pan Klub
During his lifetime, Xul Solar (1887-1963) was thought of more as a thinker and inventor than as an artist. A dear friend of Jorge Luis Borges, Xul Solar's all encompassing ideas such as his multi-level chess game the panajedrez informed and influenced Borges' Labyrinths stories. The architecturally stunning Museo Xul Solar in the Barrio Norte/Palermo zone is a glorious venue for demonstrating that Xul Solar was a person possessed of a cosmic vision. His imaginative drawings and paintings made in a luminous palette are joyous examples of fantasy art.
Xul Solar
"Tu y Yo", 1923
Watercolor, Museo Xul Solar
Museo Metropolitano
Housed in an architecturally distinguished building at Calle Castex 3217 in upscale Palermo Chico, the Museo Metropolitano exhibits the work of local contemporary artists in rotating short-term shows. Open afternoons.


Neighborhoods, Dining, Shopping and Services List
Internet Access:
Buenos Aires is very wired. Many short-term rental apartments offer high-speed internet hook-up. Using Skype, the telephone connection via computer works beautifully from BA to the US. The "Martinez" chain of cafes is equipped with wi-fi. Otherwise, there are Internet access shops in most neighborhoods.

Retiro & Downtown area:
Tramezzini--good breakfast spot on Santa Fe near Avenida Julio
Malandrino--try the fish in this small, congenial lunch restaurant on Calle Marcelo de Alvear 868 near Suipacha. Shops selling well-priced furs, primarily fox and otter, are nearby along this street.
Cabana Las Lilas--fine steakhouse in Puerto Madero, Avenida Moreay de Justo 516
El Tocororo--for a break from the syncopated wheezing of the tango Bandoneon, try this Cuban restaurant with jazz & salsa music in the Puerto Madero.
Casa Lopez--if you have time, or patience, for only one shop, spring for top-of-the-line leather goods here on Calle Marcelo de Alvear near Florida.

Palermo Chico:
Museo Renault--in a city in love with cars, it's hardly a surprise to find a chic restaurant in an former automobile showroom. This spot is on Figueroa Alacorta next door to the MALBA.
Gropius Bar--congenial bar/cafe/gallery, Cabello 3352

Palermo Viejo:
This is a buzzing barrio of restaurants, bars and shops with zones nicknamed "Hollywood" and "Soho". Ask any local shopkeeper for one of the excellent maps for shopping and dining in the area.
Bobo--chic, boutique hotel in Palermo Soho.
Infraganti--pizza and pasta in a lively, beautiful Palermo Hollywood space, Calle Bonpland 1808
Cabernet Restaurant--fine foods & wines in Palermo Soho, Calle Borges 1757
Pastis--French bistro cuisine in Palermo Soho on Gorriti at Thames
Plazacita Serrano aka Plaza Cortazar--this square is surrounded by many cafes and restaurants for a young audience and forms the heart of the Soho section of Palermo Viejo.
Palermo Viejo New Designer Shops:
Colombas--women's designer handmade sweaters in Palermo (Soho), Calle Borges 1757
Constanza y Eloisa--women's clothing in Palermo (Soho), Armenia 1959
Trosman--women's clothing in Palermo (Soho), Armenia 1998

Las Cañitas:
This buzzing neighborhood near the Polo Field has many indoor/outdoor restaurants lining the three blocks of Callecita Baéz. Take a table, then dine, drink and enjoy the street scene well into the early morning hours.

Villa Crispo:
Calle Murillo--taxi out to this street of leather outlet shops selling jackets, belts and great-looking carry-on bags. Just off Murillo on Calle Acevedo 119, Carteras Brescia offers innovatively designed hand-painted leather bags as well as more classic items.
More Destinations:
Restaurant Guide to Buenos Aires--2006
Northwest Argentina: Tucumán, Salta & Cafayate
Tigre, Argentina--Day Trip from Buenos Aires
San Antonio de Areco, Argentina--Weekend Trip from Buenos Aires
New Haven, Connecticut
Visiting New York City 2006
Montevideo
Buenos Aires
Amsterdam
Cultural Touring along Spain's Costa del Sol
Touring in Lisbon
Touring in Milan
Touring in Antwerp
Touring in Barcelona
I-80 Park City to New York City
Tourism New York City 2003 Update
Tourism New York City 2002
Hudson, New York (Columbia County)
Tourism Rome 2002 Update
Hartford & Wilton, Connecticut
San Francisco Jackson Square
New Hampshire Route 1A
Morris County, New Jersey

ABOUT THIS FEATURE

Here at BIDDINGTON'S, our work is also our play. When we're not exhibiting and discussing art online, we're learning about wonderful objects in shops, at great shows and in museums all over the world. In this article, Jake Biddington offers tourist information and descriptions of this interesting destination.



Contact Jake Biddington about His Travels




COPYRIGHT: Images and information within www.biddingtons.com are Copyright Biddington's, Inc.--except where preceded by individual copyrights of the artists.
Downloading or printing for online or print reproduction of any materials without specific written permission from Biddington's, Inc. is prohibited.





PEDIGREE & PROVENANCE CREATIVE PROCESS
JAKE BIDDINGTON'S INVESTING