REED DIXON
"Ballet Two"
Dance Painting

Biddington's Item#: 504172
Price: $3,500

Dimensions: 30" x 23"
Date: 2003
Condition: Very Good
Materials: Mixed-media on 300# Paper
Country of Origin: USA



PURCHASE THIS ITEM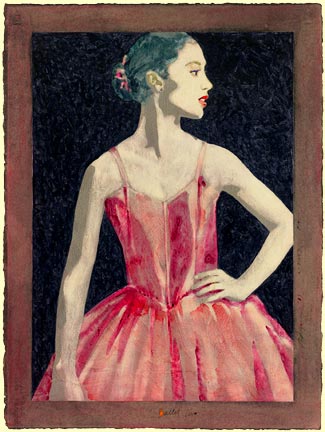 Description: In his recent series of paintings, artist/illustrator Reed Dixon depicts the life of a young dancer in the ballet both onstage and in the studio. Reed Dixon uses a mix of paints on heavy paper in making this lovely image of an alert, poised young ballerina. View painting detail.

Educated at Art Institute of Pittsburg and formerly an illustrator for Hallmark Cards, Reed Dixon had exhibited his works at venues including New York's "Society of Illustrators" and at "Communication Arts Illustration Annual".
Offered by: Biddington's Art Gallery
E-mail questions to: webmaster@biddingtons.com

View more artworks of dance and the ballet: BIDDINGTON'S REALISM GALLERY: Dance Paintings
---
PURCHASE OPTIONS
1) Purchase this artwork online with VISA or Mastercard on a secure form.
2) Mail Biddington's your check or money order using the printable form provided at checkout.
To see applicable shipping fees, follow purchase arrow to Shopping Cart .
Prefer to speak with one of our staff?
3) Purchase this artwork by telephone:
Biddington's Mon-Fri 9-5 ET at 212 838-3572.