Pair of Zuni Inlay Tortoise Pins
Item#: 503788
Price: SOLD

Item's Dimensions: 1.9"x1.7"x.7" high &1.6"x1.4"x.5" high
Item's Year of Issue: Circa 1960
Condition: Very Good
Materials: Silver, turquoise, jet & shell
Country of Origin: USA--shipped from New York



VIEW OTHER NATIVE AMERICAN JEWELRY ITEMS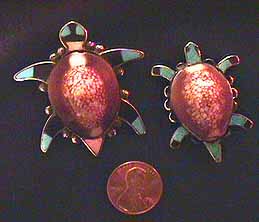 Description: This item is no longer available.
This most unusual set of vintage Zuni tortoise pins includes inlay of silver, jet and shell with the actual shells applied to make the tortoise backs. The two pins are similar in stone color, but not identical in shape and size. Please note that because of the shells, these pins are fairly high: .7" and .5". Vintage items are shipped unpolished to preserve patina.
Offered by: Biddington's Contemporary Art
E-mail questions to: webmaster@biddingtons.com

View more: SILVER JEWELRY--Native American & Mexican
---
PURCHASE OPTIONS
1) Purchase this work online with VISA or Mastercard on a secure form.
2) Mail Biddington's your check or money order using the printable form provided at checkout.
To see applicable shipping fees, follow purchase arrow to Shopping Cart .
Prefer to speak with one of our staff?
3) Purchase this artwork by telephone:
Biddington's Mon-Fri 9-5 ET at 212 838-3572.