Frances Jetter
"Hanging Bell Torso"
Bronze Sculpture
with Steel Base


Biddington's Item#: 503558
Price: $16,000.00

Dimensions: 24" high x 14" wide x 9" deep
Date: 2004
Condition: Very Good
Materials: Bronze Sculpture with Steel Base
Country of Origin: USA



PURCHASE THIS ITEM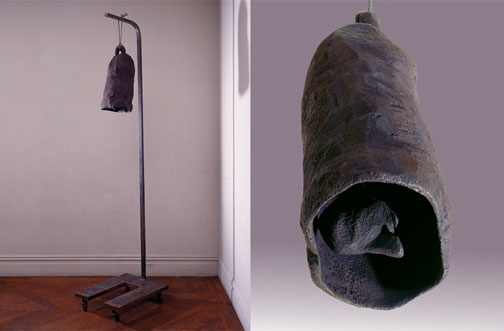 Description: "Hanging Bell Torso" is from Frances Jetter's witty and poignant torso series whose theme is people contending--not always effectively--with the vicissitudes of existence. Jetter's empathy with the human condition doesn't prevent her from making good fun of it.

The bronze bell sculpture with moving head clapper is suspended from a 104" x 21" x 27" steel base. This bronze is also available without the base at a slightly lower price. This sculpture is suitable for a interior and it is also durable enough for an exterior or garden space.

Visit Frances Jetter's studio to learn more about this artist whose sculpture was reviewed in The New York Times (May 2002) and whose social commentary graphics are included in the collections of Fogg Museum (Harvard) and New York Public Library.
View additional offerings of Frances Jetter sculpture, linocuts and etchings.
Offered by: Biddington's Art Gallery
E-mail questions to: webmaster@biddingtons.com

View more: CONTEMPORARY SCULPTURE GALLERY
---
PURCHASE OPTIONS
1) Purchase this artwork online with VISA or Mastercard on a secure form.
2) Mail Biddington's your check or money order using the printable form provided at checkout.
To see applicable shipping fees, follow purchase arrow to Shopping Cart .
Prefer to speak with one of our staff?
3) Purchase this artwork by telephone:
Biddington's Mon-Fri 9-5 ET at 212 838-3572.