Nancy AZARA
"Changes: Fuchsia Door"
Carved Bas-Relief
Wood Sculpture
Item#: 502845
Price: $800

Item's Dimensions: 12" square x 2.5" deep
Item's Year of Issue: 2000
Condition: Very Good
Materials: Carved Wood with Tempera Paint
Country of Origin: USA



PURCHASE THIS ITEM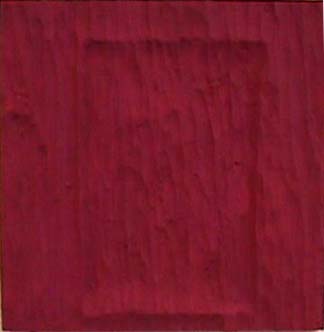 Description: "Fuchsia Door" is a wood carving from sculptor Nancy Azara's "Changes" series. This series includes timeless symbols from nature and myth--symbols upon which Azara has focused since her very successful "Sacred Dwellings" works of the early 1990's. Azara's approach to wood sculpting is physical and expressive; the artist then clothes her work in rich color. This wall-mounted, wood bas-relief, measures 12" square by 2.5" deep. Azara makes a variety of colors and images in this series; each panel can be mounted individually or grouped with others as seen in this studio wall photo. To learn more about Azara whose one-woman exhibitions have been reviewed by The New York Times, Art Forum, Art in America and The Wall Street Journal, visit Nancy Azara's studio. View more works by Nancy Azara.
Offered by: Biddington's Contemporary Art
E-mail questions to: webmaster@biddingtons.com

View more: SCULPTURE GALLERY
---
PURCHASE OPTIONS
1) Purchase this work online with VISA or Mastercard on a secure form.
2) Mail Biddington's your check or money order using the printable form provided at checkout.
To see applicable shipping fees, follow purchase arrow to Shopping Cart .
Prefer to speak with one of our staff?
3) Purchase this artwork by telephone:
Biddington's Mon-Fri 9-5 ET at 212 838-3572.