Lisa DINHOFER
Painting
"Marble Field #7"
Item#: 502793
Price: $3,500.00

Item's Dimensions: 14" X 17.75" panel; 16.75" X 21" framed
Item's Year of Issue: 1994
Condition: Very Good
Materials: Oil on masonite panel;
shadowbox frame
Country of Origin: USA



PURCHASE THIS ITEM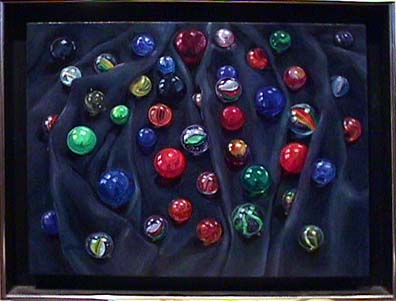 Description: Illusionistic painter Lisa Dinhofer creates a landscape from fabric and and glass marbles in this oil painting on panel entitled "Marble Field #7". At a distance, Dinhofer's paintings engage the eye as abstractions; on closer examination they grow increasingly specific. In this painting, the glass marbles are so precisely rendered that each one individually reflects the artist and the studio space in which she is working. Click to view detail. This painting pre-figures Lisa Dinhofer's 90 foot marbles mural for the New York City MTA subway station (42nd Street and 8th Avenue) unveiled in May 2003. Lisa Dinhofer teaches drawing at the National Academy of Design (NYC) and is represented in major collections including: New York Public Library, Brooklyn Museum, IBM and Pfizer. Visit the Soho studio of illusionist painter Lisa Dinhofer. View additional still life paintings, drawings & mixed-media works on paper by Lisa Dinhofer.
Offered by: Biddington's Contemporary Art
E-mail questions to: webmaster@biddingtons.com

View more: REALISM--Still Life
---
PURCHASE OPTIONS
1) Purchase this work online with VISA or Mastercard on a secure form.
2) Mail Biddington's your check or money order using the printable form provided at checkout.
To see applicable shipping fees, follow purchase arrow to Shopping Cart .
Prefer to speak with one of our staff?
3) Purchase this artwork by telephone:
Biddington's Mon-Fri 9-5 ET at 212 838-3572.