Vintage Black Coral & Czech Glass Necklace & Earrings
Item#: 500116
Price: $95.00

Item's Dimensions:
21.5" long necklace; .8" long earrings
Item's Year of Issue:
Various periods
Condition:
Very Good
Materials:
Black coral and Czech glass
Country of Origin:
Shipped from USA



PURCHASE THIS ITEM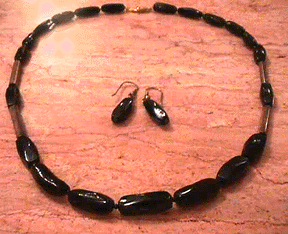 Description: The necklace combines old black coral beads with golden Czech glass tubular ones from the 1930's. Earrings consist of one black coral bead suspended on a curving pierced ear wire. While the elements are old, this particular--and quite handsome--configuration of them is probably quite recent.
Offered by: Biddington's Jewelry Gallery
E-mail questions to: webmaster@biddingtons.com

View more: DESIGNER JEWELRY--Vintage
---
PURCHASE OPTIONS
1) Purchase this work online with VISA or Mastercard on a secure form.
2) Mail Biddington's your check or money order using the printable form provided at checkout.
To see applicable shipping fees, follow purchase arrow to Shopping Cart .
Prefer to speak with one of our staff?
3) Purchase this item by telephone:
Biddington's Mon-Fri 9-5 ET at 212 838-3572.